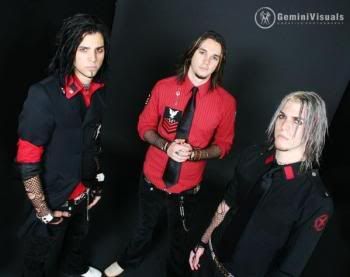 I determined two things last night at the Buffalo Club: 1) Audience determines the success of a set and 2) Talent and popularity don't always go hand in hand.
We popped into the Buffalo Club to view a portion of Like A Storm's gig. We arrived a bit early and managed to catch the latter half of Kill Rhythm. The crowd loved this group. The majority of (male) fans sang along to each and every song and did the customary head bang in unison. But, the band couldn't carry a tune to save their life! To be fair, this was probably an off night for the singer, and the acoustics in the Buffalo Club are atrocious, but c'mon, even giving these 'outs' the gig still came up short. I imagine their recorded stuff is amazing, given the fan reaction.
Like A Storm, Canadian born, but hailing from New Zealand, hit the stage with guns a blazin'. But try as they might, they could not stoke this crowd into a frenzy. It just wasn't happening. Singer, Chris Brooks, even joked (after urging the crowd to yell something) "Great, that was ... about three of you... okay, maybe one with a loud voice." The Brooks boys (Chris Brooks: guitar, lead vocals, Kent Brooks: bass, vocals, Matt Brooks: drums, vocals) are definitely appealing when it comes to eye candy requirements, but even shirtless, speaker jumping enthusiasm wasn't moving this stunned lot.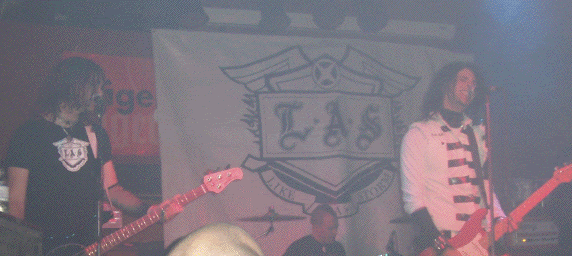 The audience was not your typical indie crowd. Perhaps the New Music West acts performing throughout the city determined the atypical crowd. I am not sure. I just seemed to noticed that no one looked as if they 'belonged' anywhere. It was an eclectic mix of young to old, poorly dressed to tackily dressed. Not an original thought to appearance was in the crowd.
During LAS's performance, I noted the typical good signs: the crowd got thicker during their set, more were pushed to the front, no one left... yet the audience remained as bland as milquetoast. I had one fellow beside me turn to his companion and say, 'Gee, they sure like to swear.' I can honestly say I've never heard that comment at a gig. Always time for a first.
LAS's performance was fine - a little over the top for the venue, but I like to see that. It shows me that they give the full show whether they're playing an arena or a pub. Their vocals are spot on, given the venue. Their sound system was lacking, having various parts of the songs become amplified, and parts of the vocals seemed to drop off. As well, the tape loop/backtrack was out of sync with the general sound. They obviously have ability and talent, but something kept striking me as not quite right.
When they launched into their new song, Generica it struck me. LAS's 'look', sound, and logo are in conflict with each other. The recently recorded song, Generica, goes with the LAS logo, and seems to be a good direction for the band (given the reception to the song). However, their 'look' doesn't match their sound, or their logo. I think the band needs to revisit their look, along the direction of dressing 'down' coupled with their great belts and other accessories. Otherwise, they will be in danger of being dismissed as a hair band - a shame - as they do have talent. (As well, those scary, simple, vacant audiences won't be as mesmerized and preoccupied with the bright and shiny things on the band members.)
Last note - I despise ice machines/ smoke machines etc.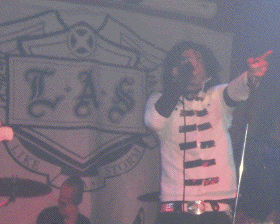 great image from www.muzic.net
poor images from swanktrendz.com