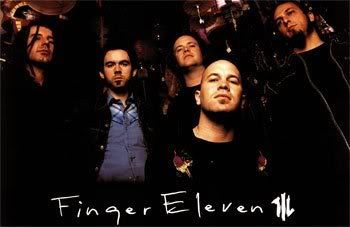 "Paralyzer" shatters the record for most consecutive weeks at #1 on the Canadian Rock Radio Charts.
Finger Eleven made their triumphant re-entry to the music scene on March 6, 2007 with their fourth Wind-up Records release 'Them vs. You vs. Me'. Since the album's release Finger Eleven have experienced their highest sales debut to date reaching #2 on the Canadian Soundscan Top 200, completed successful US tours with Chevelle and Evanescence, embarked on their own sold out Cross-Canada tour, chalked up a #1 video on Much Music and as of last week smashed the Rock Radio record for most weeks for a single by a Canadian band at #1.
According to BDS/Neilson Soundscan the music industry's official air-play monitor, the band's hit single 'Paralyzer' has held the #1 spot at rock radio across the country for an astounding fourteen weeks, breaking the record of thirteen weeks previously held by Nickelback with their single 'Someday'. The song is also gaining momentum at Pop Radio and combined air-play from all formats making 'Paralyzer' the #1 song in the country.
From the multitude of song ideas collectively written by the band, twelve finished tracks made it on to 'Them vs. You vs. Me' with 'Paralyzer' becoming the unquestionable lead single. The infectious song quickly caught the attention and support of listeners and programmers across the country resulting in 'Paralyzer's' rapid climb up the charts, reaching #1 at rock radio in six weeks and sitting comfortably at its peak for a record breaking fourteen weeks.
The accompanying video to 'Paralyzer' is also receiving tremendous acceptance at video outlets across the country. This week it is perched at #1 on MuchMusic's Top 30 countdown.
Finger Eleven is currently six shows deep into their 14 date headlining National Tour with sold out shows across the country. The band's Cross Canada tour with label mates STRATA and special guests Inward Eye runs until May 14th.
April 26 2007 Capitole Québec, Québec
April 27 2007 Theatre Granada, Sherbrooke
April 28 2007 Le National Montréal, Québec
April 30 2007 Capital Music Hall Ottawa, Ontario
May 1 2007 Kool Haus Toronto, Ontario
May 6 2007 The Outpost, Thunder Bay
May 7 2007 Burton Cummings Theatre Winnipeg, Manitoba
May 8 2007 Prairieland Park Saskatoon, Saskatchewan
May 10 2007 Events Centre Edmonton, Alberta
May 11 2007 MacEwan Hall Calgary, Alberta
May 13 2007 Curling Club Victoria, BC
May 14 2007 Croation Cultural Centre Vancouver, BC
From Wind-up Records Canada Media
Image from artfiles.art.com/

www.fingereleven.com