Swank Home
Swank's tblog Home
Swanktrendz Myspace Home
The Cliks were kind enough to respond to an online interview with Swanktrendz. I have to say, this interview is definitely up there amongst my 'favourites', despite not getting a chance to meet them and my naivety showing in some of my questions. I think Lucas' personality shines through in his answers. As well, we'd like to remind our readers that The Cliks' debut CD,
Snakehouse
is on sale now!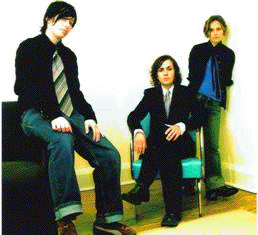 Swanktrendz: Your debut cd, Snakehouse has been a huge hit with the media. You also have various celebrities praising your sound, including a quote of appreciation from Cyndi Lauper. ("...new and exciting acts. A band like The Cliks are all that and more. They are a force to be reckoned with and I am really excited to be sharing the stage with them." ) What was your reaction to Cyndi's endorsement (and were you familiar with Lauper's prior popularity)?
The Cliks: We're just beyond flattered. I mean, it's Cyndi Lauper. I used to listen to her music when I was a kid and dance around my basement singing, 'Girls just wanna have fun'; so yeah, I'd say I'm pretty familiar with her prior popularity. She was a very impactful artist of my youth.
Swanktrendz: I want to thank you giving Canada yet another thing to be proud of - The Cliks' musical talent.' Complicated' and 'Back in Style' are my (Christine's) personal favourites that I repeatedly play while driving. While listening to the entire cd, I've notice a continuous theme of alienation, betrayal and pain throughout the songs. What was the impetus behind the lyrics to Snakehouse? Were these songs written over a short period of time or is this years in the making?
The Cliks: You hit it on the nose. Yes, this album is very much about all of those things. I started writing the material for this album after the end of a 6 1/2 year relationship. And the end was ugly. Along through a whirlwind of bad luck, having both original band members quit, my father had a stroke, my best friend rediagnosed with cancer... it was just insane. And through all of this, I finally realize that I've been in years of denial and that I was transgendered. It was a tough time but I did the only thing I knew I could do to get me out of it. I wrote songs. The material took me about 10 - 12 months to write, so no, not years in the making.
Swanktrendz: What made you choose to cover Justin Timberlake's 'Cry me a River' song? Have you received any feedback from Justin in response to your cover?
The Cliks: I connected to the lyrics because I had my own 'Britney'. I just loved the song as well and really, more than anything, used it as a therapeutic way of lashing out my anger. It's cheaper than therapy (ha ha).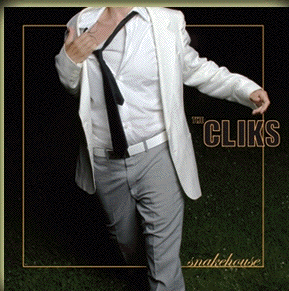 Swanktrendz: What was your and Clint McLean's (photographer) thinking, conceptual approach, behind the album's photo shoot? What is the 'story' behind the photos?
The Cliks: The album cover concept was Morgan's. We all really loved it because it left a sense of mystery. With Clint, the rest of the photos are just him and his madness and his love for funny expressions. He likes the look of 'surprise'. I think he did a great job and I'm not just saying that because we've become good friends.
Swanktrendz: How did you come across (or did he come across you) Moe Berg?
The Cliks: He came to one of our shows, bought the first CD and contacted me right away. He expressed interest right from the get go, but we had just recorded an indie release and I had no funding to go forward at that point. We kept in touch and when I was ready, I contacted him and next thing you know, we had a great record on our hands.
Swanktrendz: What exposure did you previously have to The Pursuit of Happiness band?
The Cliks: When I was a kid, they were a pretty big band in Canada so I knew all bout the music and him.
Swanktrendz: How much trust does a singer/songwriter have to offer up to a producer while making a cd.? Was it an equal collaboration, or did you completely trust his prior experience, and therefore his decisions, for the direction of the band's/cd's sound?
The Cliks: It was extremely difficult for me to give up the so-called 'control' of my songs, but after one session with Moe, I was so impressed that it actually became extremely liberating to have someone do the work and have an outside perspective. I wrote all of the songs so I guess you could say it was partially collaborative in production, but really, Moe is the one who made the songs come together the best they could. He has an amazing knack for taking something good and making it better. I loved working with him and I look forward to working with him again.
Swanktrendz: I've noticed you have four members listed on the Snakehouse CD that make up The Cliks. The CD's pictures and notes show Jordan B. Wright as The Cliks' bassist, yet the band's myspace.com site makes no mention of her as a member. Could you please provide us with The Cliks 'official' lineup?.
The Cliks: This is the confusing part. The original line up for the band in 2004 was Ezri Kaysen and Heidi Chan. They both left for different reasons - actually, when I was in the middle of my entire life crumbling. I then met Jordan, the bassist on the album, and Morgan Doctor who is in The Cliks now. When we started to plan to tour, we added Nina Martinez to fill out our live sound, and then loved her so much that she is now an official member of the band. Soon after the album release, Jordan decided to leave the band to pursue her own projects. That is when Jen Benton came on board as our newly beloved bassist.
Swanktrendz: How does it feel to be playing to your old stomping grounds (Toronto) in light of your new popularity? Has Toronto's media been responsive to your CD's positive reviews? Was the media supportive of your music prior to the release of Snakehouse?
The Cliks: We haven't really been playing Toronto lately as we are touring outside of home, but I'm really looking forward to it. We have a show at Lee's Palace in May. The media, overall, has been very positive and has been really supportive, outside of a bizarre review we received in Xtra! magazine which insinuated we were sell outs because we worked with Moe Berg and Jake Gold, but then went on to say that the album was still good. Huh? It's kind of funny that the dude's perception was so completely off as Jake Gold only started to manage us after the album was completed and had nothing to do with the process. But I guess that's what happens when you don't do your research and it was a great lesson to learn that everyone's perception is different based on personal bias.
Swanktrendz: Will you continue signing your name as Lucas or will you eventually return to Lilia? Or is Lucas the 'real' you, as opposed to your given birth name? (I love both names - perhaps a marriage of the two ie: Lucas Lilia? )
The Cliks: I'm transgendered and this isn't a name game I'm playing. I changed my name as I identify as a transgendered male and I loved the name Lucas as it was my uncle's name who has passed on. There will be no marriages of names. The real me... is who I am.(Editor's note - it was a stupid question I asked in that I phrased it totally wrong - email questions are hard to phrase as the intent can become muddied. I did not mean to imply that being transgendered is a passing phase - I meant that Lucas' original name sounded good with Lucas and did he intend to ever use it again. I assumed an 'attachment' to the first name which was unrealistic on my part. Again, my question is stemmed in ignorance, As for the: 'the real you?' statement ... duh, is there any other way to be.? (Rap on the knuckles for yours truly.) Hopefully, Lucas won't hold the inane questions against me. I almost didn't include the questions in my final copy because of my embarrassment, but that would have been misleading. So now the world can view my ignorance.)
Swanktrendz: Do you see your band progressing to an arena-style rock feature, or would you prefer a smaller, solid and loyal group of fans?
The Cliks: Never really though about it, but really, if want to marry anything - it would be a solid,loyal group of fans that fill arenas.
Swanktrendz: Fame is notorious for bringing/attracting fairweather friends or hangers-on. Since your entrance into the fame arena, have you found your circle of friends changing/evolving, or have you found yourself questioning the motives behind some friendships?
The Cliks: Darlin', I'm not that famous and really, I have good friends and am glad to say that I haven't encountered any negativity, thus far.
Swanktrendz: There appears to be a lot of interest in the band's, especially Lucas' sexuality. Does the media's interest in the band's sexuality hamper the band's progress, or does it provide a platform (or segueway) for personal and political beliefs?
The Cliks: It hasn't, so far, (hampered our progress) and as far as it being a platform, well the media will take any story to create a platform and we really have no control over that. I think the fact that I'm transgendered and out is something people are interested in because it's unusual, but really, I think after all the talking is done and people hear the music, they will come to the conclusion that these songs have a universal theme about them and we have no boundaries or boxes in the studio.
Swanktrendz: Could you please provide a brief musical experience background for each of the band members.
The Cliks: Everyone is a trained musician with the exception of me, I'm self taught.
Swanktrendz I've noticed that Morgan Doctor is also with Aporta Records. Does this present any problems when touring or recording? How does Morgan attempt to appease all those involved in her recording career?
The Cliks: It's Aporia Records, BTW, and no, no problems whatsoever. We have a really well oiled machine here and we all work together in everyone's' best interests.
Swanktrendz: Swanktrendz has a tradition of asking interviewees to give publicity to some lesser known musical acts whom they appreciate. Could you please name some bands whom you feel deserve more public (and media) acknowledgement. Swanktrendz will provide links to their websites.
The Cliks: : Great bands... Well... I don't think she is that well unknown, but I have been tripping out to (Amy Winehouse) and can't stop listening to it.
We also played with this amazing band at SXSW called, 'The Breastfeeders' or (Les Breastfeeders) as they are known in Montreal. There are also some amazing bands in Toronto... (Scandalnavia), (Dance Yourself to Death) ... Uhm... (The Smears) from Vancouver. I think that's it for now.
Swanktrendz: We at Swanktrendz wish you great success with the release of Snakehouse, as well as an endless supply of material for your next chart-topping album. And thank you, in advance, for taking the time to answer these questions.
The Cliks: Thank you as well!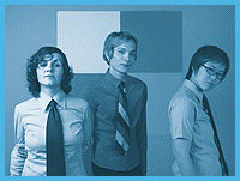 image 1: ladyfestottawa.com
image 2: uniter.ca
image 3: tmarkiewicz.com
image 4: Xtra archives