Visit Swanktrendz
Visit Baba Brinkman
Musicophiles,No, this isn't a selfish plug for some new project of mine, it's all about my friend and record label protégé
Aaron Nazrul
, who is making serious waves with his music lately. Back in September Aaron made an amazing music video for
When the Night
one of the songs from his album
Butterfly Man
(produced by my uncle Simon Kendall, executive produced by myself). It's a classic East Vancouver block party video featuring all of our friends from the neighbourhood, filmed in the back alley behind his house. If you want to see how we party in Vancouver, you
can watch the video on YouTube:
But the real news is that
Much Music is now playing the video on rotation, and it has hit the Top 10
! For those of you outside Canada,
Much Music
is our version of
MTV
, and is a very big platform for Aaron to get his music out. He is currently in the number six position,
ahead of:
Beyonce, Christina Aguilera,
and
New Kids on the Block
! How did he get there? People can vote for their favourite artists on the web, and I'm hoping all of you will take a moment to vote as well. You can vote as many times as you want and you can vote from anywhere in the world, so let's get him to Number One!
Visit the Much Music website to vote.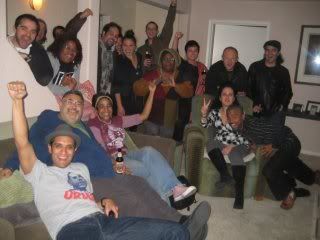 Aaron and his band are currently on tour in Central America, playing gigs as they cruise from country to country in their tour bus Winnebago. If you want to check out his album or (heavens!) buy it, you can get it from iTunes or order by mail from my website (click "Butterfly Man" under Discography, left side of page):Order Butterfly Man
As for me, I'm writing from NYC, on a short sojourn between gigs on my US tour. I had the singular honour of spending election day here in the States with a great group of very talented people at the
Hip Hop Boot Camp
in Ashland, Oregon, part of the
Oregon Shakespeare Festival
. I was pretty proud of my American kin for the history they made that day, plus the entire boot camp experience was amazing.The festival brought together seven hip-hop theatre professionals and seven professional Shakespearean actors for a series of skills-trading workshops and performances. Apparently some people high up now believe hip-hop is the future of Shakespearean theatre. You don't have to convince me...In the past three weeks I've performed in New Orleans, Boulder, Worcester, Mass., and at Penn State University. But colleges are off over US Thanksgiving, which means so am I. So I'm just visiting friends here in New York for a few days and relaxing (I know, sounds unlikely) before heading onward to gigs in Portland, Oregon and Birmingham, Alabama (which they pronounce with extra "Ha-yam", not "Birming'm" like in England). Then I go home to Vancouver for the holidays, and spend a few months regrouping before the next round of touring.I have some exciting projects coming up in 2009, but until I see the ink dry on the paper I'm hesitant to announce anything, so for now stay tuned, and don't forget to lend Aaron your vote.Can we get him to Number One?
Yes we can
.Baba
Read Shane's bang-on review of Butterfly Man Here