Swank Home
Swank's tblog Home
Swanktrendz Myspace Home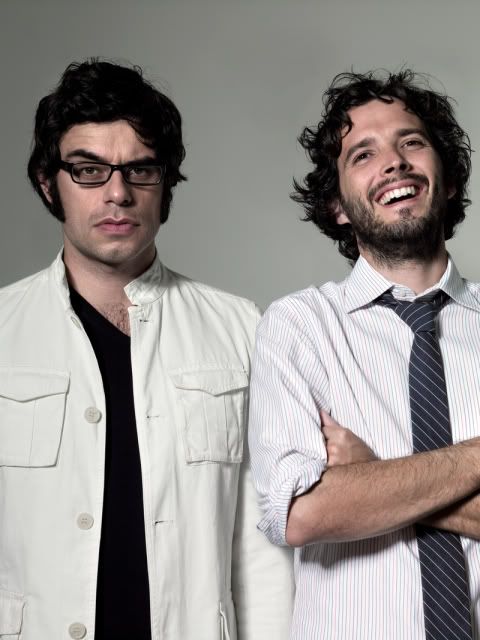 I read recently that in tough economic times, comedies become more popular. Sadly, the quality of most comedies these days hasn't become any better than it was were our economy stronger. In fact, there is only one comedy out there in TVland right now that is any goo. But the great news is
it's brilliant
. Wednesday evenings on the Comedy Network you can tune into
Flight of the Conchords
, probably the best show on TV today. Based on the life of two band mates who have relocated from New Zealand to New York,
Flight of the Conchords
offers both comedy and songs (a combination that usually does nothing for me). And the actors
Bret McKenzie and Jermaine Clement
aren't too hard to look at, either. Their lives revolve around their low rent apartment, meetings with their manager (who seems incapable of getting them any gigs), their one fan, and Bret's ever-changing status as a band member. The twosome bill themselves as
'formerly New Zealand's fourth most popular guitar-based digi-bongo acapella-rap-funk-comedy folk duo'
. Together, they have won a Grammy (2008, best comedy album), created a radio series for BBC Radio 2, been
named to the list of top five new TV shows for 2007 by Time magazine
, and still tour and perform at various venues (this year, they were on the main stage at
Sasquatch Festival
, and did a free show a
Amoeba Records
, to name but a few). Not to be missed.Image from Wordpress.