Visit Swanktrendz
I love well-made radio almost as much as I love print media, so Internet podcasts are catnip to me. I found Ruby's Chicky Boil-Ups by following a link from my favourite podcast, The Bike Show, broadcast from London by Jack Thurston on Resonance 101 FM (link below). The Bike Show, not surprisingly, focuses mainly on cycling. Ruby (who, it turns out, is Jack's cousin) focuses entirely on music.
She chooses a loose theme for each show, then chooses a surprising range of music to fit each theme. She also finds a well-informed someone to talk to about this theme, and includes music that this person chooses. The result is eclectic, unusual, and wonderful.
How surprising? How eclectic? A few themes and playlists are shown below. Scroll down and have a look...
Sunday Service

Gospel Train - Sunbury Junior Singers of the Salvation Army
Heaven's Radio - Molly o'Day and the Cumberland Mountain Folks
Female Jesus - Men in Gray Suits
Dominique - The Singing Nun
Saved - Lavern Baker
Jesus in His Pomp - The Chimps
Six and Seven Books of Moses - The Maytals as The Vikings
Joshua Fit the Battle of Jericho - Paul Robeson
Soul Train - Judith
Angels Laid Him Away - Mississippi John Hurt
Jesus Blood Never Failed Me Yet - Gavin Bryars
Tour De France
Rockin' Bicycle - Fats Domino
En Bicicleta - Manuel Jiminez
La Troisième Roue De Ton Velo - Antoine
A Bicyclette - Yves Montane
Motorcycle - The Rumble Strips
Gravel Rash - Cookin' on Three Burners
Pedal Pusher - Abdominal
Tour De France - Kraftwerk
Bravo Eddy - Jean Narcy
Blood on the Saddle - Tex Ritter
Henkie de Fiets - Henkie
The Highway Code - The Master Singers
Waiting At The Bus Stop - Kay-Gees
La bicyclette - Annie Duparc
The Great Outdoors
I Came Out of the Wilderness - Pete Molinari
Arizona Yodeller - DeZurik Sisters
Building a Boat - The Rumble Strips
Run Rabbit Run - Harry Smith
Country Death Song - The Violent Femmes
Moonlight & Roses - Tommy Sanderson Francis, Day & Hunter
The Valleys - Electrelane
Inakano Musume - Ban Ban Bazar
Goodbye California - Jolie Holland
Puszta-Fox - Orchester Barnabask von Geczy
Roam - B52s
La Montagne - Choeur des Armaillis de la Gruyère
Whispering Grass - The Ink Spots
Lord Blow the Moon out Please - Hem
Down by the Riverside - Lesley First
Man Walks Among Us - Jonathan Richman
Architecture
The Smoke Comes Out My Chimney Just the Same - Skeets McDonald
Do The Whirlwind - Architecture in Helsinki
This is the House that Jack Built - Willy Whyton
London Calling - The Clash
Luton Bungalow - John Hegley
First Row Balcony - The Gaylords
Love Breaks Down - Prefab Sprout
Home is where the Hatred Is - Gil Scott-Heron
I Wish to Build a Mosque - Markos Vamvakaris
In Your House - The Cure
Crying in the Chapel - Elvis
Living on the Ceiling - Blancmange
Maison Rose - Emmanuelle Parrenin
Underneath the Arches - Billy's Banjo Band
My Head is My Only House Unless it Rains - Captain Beefheart
Lara's Castle - Yann Tiersen
Come on Feel the Illinoise! - Sufjan Stevens
Build - The Housemartins
Christopher Robin at Buckingham Palace - Anne Stephens
We Built this City on Rock and Roll - Starship
Enjoy! I certainly do, and
hats off(!)
to Ruby.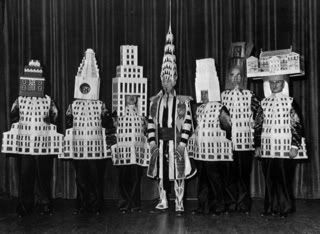 Visit thebikeshow
Visit rubywright.wordpress