Visit Swanktrendz
There was once a time when Canadian TV shows were guaranteed to be dull, unappealing, and have a really low-budget appearance.Then came
Durham County
.Six episodes premiered back in May, 2007, on The Movie Network and Movie Central; this year, you can catch the repeats on Global, as well as Showcase (at 9:00). Season 2 is just starting production this month, and the first episodes are set to air in the spring of 2009. I'm predicting a surge in audience numbers by that time: the first episode of Durham County has been nominated for
13 Gemini Awards
, including best series, best writing, best directing, best photography, best editing, and best sound (to name but a few). And well it deserves any accolades that come its way.There is more art to be found in one episode of Durham County than you would find in any gallery in Canada. In scene after scene, there are shots that are just masterful. The images are incredibly evocative.Most episodes open with, or feature at some point, a shot of the power lines that run through Durham County. Between the images, the symbolism, the mood that is set and the story itself, this is TV that easily tops every that is out there right now. It is almost Lynchian in its presentation, and frequently juxtaposes images and ideas that tell you much more, and much more quickly, than you are learning from the characters themselves. And that is just part of its magic.Durham County is a police procedural with a family drama backstory; each episode is not resolved, but rather, the story builds as the season progresses.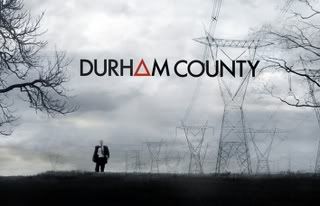 The show stars
Hugh Dillon
as Detective Mike Sweeney; Sweeney has left Toronto following the death of his partner, and the near death of his wife (to cancer). Still dealing with the emotional after-effects of both of those emotionally traumatic events, Sweeney is plunged right into the middle of a serial killer hunt in his new hometown, the suburb of Durham County. Complicating matters further, it turns out a nemesis from his youth lives directly across the road; as well, the young woman he fell in love with at the cancer support group turns out to be his daughter's high school English teacher.In addition to the adult cast, the teens in this film are especially noteworthy.
Laurence Leboeuf
stars as Sweeney's daughter, an independent young lady who enjoys recreating crime scenes in her doll house during her spare time; her counterpart is the shy, artistic son of his father's nemesis. Rounding out the cast is the youngest daughter, a character who appears in most shots wearing an over-sized Sailor Moon mask. Altogether, the story is a convoluted, twisting journey through an everyday neighbourhood where good and evil co-exist.Not to be missed.
Visit Durham Site
Durham Twitter
Durham Facebook