Visit Baba Brinkman's Site
Visit Baba Brinkman's Site
Visit Swanktrendz's Home Page
Attention Seekers, Name-dropping is so tawdry, but so are most things that instantly capture our complete attention. Twenty minutes ago I bid goodnight to my dinner companions, a group of five including the
legendary English actor and playwright
Steven Berkoff, theatre dynamo and James Bond villain extraordinaire. Steven regaled us with tales of theatre productions in the 60's when he shared the stage with a 24 year old
Ian McKellan
, and I reciprocated with a command performance of
The Wife of Bath's Tale
. It turns out he's also directing a play at the
Pleasance Dome
in Edinburgh this year, so we'll soon be sharing a venue. When I told him that we'd be performing 27 consecutive shows in Edinburgh, he retorted: "
I have a tour of Australia coming up in September with 36 consecutive performances, two hours per night!
" Nothing like a little healthy competition among playwrights... If you don't know who Steven Berkoff is, then you've never seen Beverly Hills Cop.
Check him out:
I'm writing from the
Lowdham Book Festival
in Nottinghamshire, where I have three days of performances and workshops in schools to keep me busy. Today I performed
The Rap Canterbury Tales
in five consecutive one-hour sessions starting at 9 a.m., for groups of students ranging in age from 11 to 18. Ouch, I can hear some of you wincing. Cool, I can hear others enthusing. Yeah, a bit of both, I concede. On the one hand, it leaves me completely wiped out, rapping for hours on end, repeating the same stories. On the other hand, every new audience brings new appreciation, and I get $1000 a day when I'm gigging. The only thing more tawdry than name-dropping is talking about how much money you're making, ugh. Whatever. Independently mounting a full production at the Edinburgh Fringe is an expensive endeavor, and this is how I'm financing it. Speaking of which, Dizraeli and I finished writing the script for the
Rebel Cell
the other day and have done a few test runs, smoothing out the kinks. We're also pressing ahead with the album version of the show, and we'll have advance copies ready in time for the
Fringe
, barring any unforeseen disasters. We recently completed the first track,
The Fallout
, during which we break up like the
Fugees
in true dramatic fashion. The preview is now on myspace if you want to
give it a listen.
Last week I was in
Stoke-on-Trent
, (which the locals call Choke-on-Stench), an industrial town not far from here that couldn't be more different (
Lowdham's
demographic is more than 70% millionaires, according the cab driver). I spent three days performing at Staffordshire schools and teaching workshops to kids who definitely don't see outsiders much, lovely as they were. Some of them came up with very clever raps. Most bemusing was the fact that they mistook me for a celeb and had me signing dozens of autographs, which they seemed to think might be worth money someday. But I can't imagine even Eminem's autograph is worth anything on a scrap of paper (autographed large glossy photos go for about $5 on Ebay). If it were otherwise, he could just stay home scribbling his name all day instead of making records. Of course, no one is a celebrity until/unless people mistake him/her for one! Hold me back. In two days I depart for the notorious
Glastonbury Festival,
headlined by
Jay-Z, Amy Winehouse,
and
Leonard Cohen
. I'm performing on three different stages over the course of the weekend; a mixed bag including both hip-hop gigs with
Mud Sun
Image from pleasancepages.co.uk :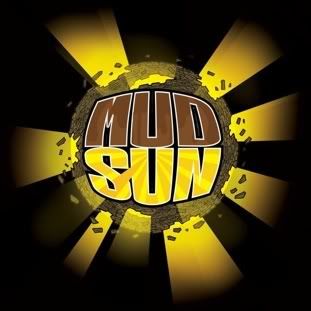 and solo spoken-word gigs. I've heard the Glastonbury
legends
for years and I'm
finally
going to see for myself,
and under
the exact circumstances, which I had most hoped for. After just over three weeks in England the cuts and scrapes on my limbs from a month of tree planting have finally healed and I've completed my seasonal metamorphosis from a beast of burden into a purveyor of linguistic animal magic. If you're curious about what our new Edinburgh show is going to be like, take a moment to read some press on
The Rebel Cell
at Rebel Cell Press:
During the current run and lead up to the
Fringe,
(...under a month left to go...) is that time when the publicity drive kicks into gear, so any press contacts or suggestions for getting the word out are
always appreciated
. Wish me luck at the mother of all music festivals!
baba
Any Middle and high Schools interested in booking Baba Brinkman for a performance/ assembly, please contact Baba through his website.