Visit Swanktrendz's Home Page
On Friday, at 11:00, tickets will go on sale for CFOX's, August 9th,
Vancouver's 2008 Seeds
event, at the Commodore Ballroom.Tickets are only $9.93 (so you are definitely getting your money's worth and then some).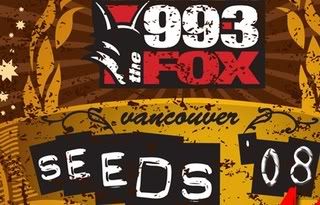 The evening's lineup includes:
IncuraInnocent BystanderCold DrivenVersus the NothingJordan Carrier
With Special Headliner:
Thornley
One of these top five acts will receive the
Platinum Award
which provides:
• A management consultation deal with Coalition Entertainment (currently managing Our Lady Peace, Finger Eleven and Simple Plan) • An agency consultation deal with the Agency Group (Ralph James) • Recording of an EP at Mushroom Studios Vancouver from Mushroom /Hipposonic • A 1-day song writing session with Brian Howes (Hinder, Rev Theory, Puddle of Mudd, Sheryl Crow) • Mixing of 1 radio single by Mike Fraser (AC/DC, Ill Scarlett) • A demo recording deal with Maple Music Including national distribution •A gig opening Foxfest with Stone Temple Pilots at GM Place on August 30th.
I feel that the Fox's contribution to the independent British Columbian music scene via The Seeds contest is commendable.There is one contest entry requirement that I have always felt must hamper some eager band's eligibility. The Seeds entry form lists several conditions that entrants must adhere to. The most standard condition is:
This competition is open to residents of BC, except the employees, directors, and immediate family members of CFOX Radio, Corus Entertainment Inc., Long & McQuade Musical Instruments, Labatt Brewery and Music BC, their employees, and immediate family members of anyone in these groups.
These aforementioned companies employ A LOT of British Columbians and I am sure there were a few
potential
entrants who were affected by their (or their family members') employment. I have often wondered why this is a common requirement with contests? (The first explanation that comes to mind is eliminating any accusations of unfairness or favoritism.) Be sure to get your Seeds' tickets and support our local musicans.To listen to the final ten CFOX 2008 Seeds' entrants,
Click Here.