Visit Kickin' It Old School's Blog
Visit Swanktrendz's Home Page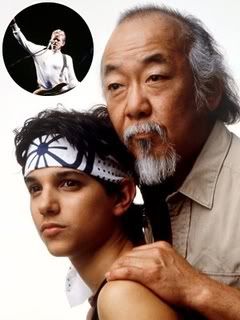 As you all know by now, I love almost everything about the '80s, but especially the music and movies. One of my very favorite guilty pleasures is the movie
The Karate Kid
(the original from 1984). I am not sure exactly why, but I have always loved this movie. Maybe it is because it is about the underdog who overcomes tremendous obstacles to achieve his goals in the end. Maybe it is because it is a story about the power of friendship, trust and honor. Maybe it is the thrill of victory and that all of the hard work and training really does pay off. Maybe it is battle of good versus evil with the good guy losing some battles, but ultimately winning the war? Maybe it is because of Elisabeth Shue? Maybe it is a combination of all of those reasons, but I love this story about
Daniel-san
and
Mr. Miyagi
and whenever it is on I cannot help but sit and watch it. Here is a
link to an article written by Bill Simmons for ESPN
which discusses his love for
The Karate Kid
movies, which made me feel a little better about my sentimentality toward this movie. Also, here is a
link to a YouTube video that I thought gave a great summary of the movie
in less than five minutes, set to the song
Blurry
by
Puddle of Mudd
. The video only glosses over some of the enjoyable training scenes, but I feel it does a good job of hitting the highlights. Despite supplying you with this link, the clip is not the real purpose of this entry. There is a video that I find amusing called
Sweep the Leg
by the band
No More Kings
. The video was released in 2007 and was written and directed by
William Zabka
who played
Johnny Lawrence
in
The Karate Kid.
The premise of the video is to see what old
Johnny
is up to nowadays. He is haunted by the band (No More Kings) and ends up chasing front man
Pete Mitchell
and a battle ensues. He then wakes up to realize he was only dreaming, only to get hit by a car driven by none other than
Ralph Macchio
himself. Strange, but funny stuff especially for an '80s junkie like me. The video not only features Zabka and Macchio, but also other members of the movie cast including all of the other Cobra Kai cronies. Macchio looks good considering he is now 46 years old, but the same can't be said for some of those Cobra Kais. The beginning of the video stars
Dennis Haskins
(better known as "Mr. Belding" from the
Saved By The Bell
(television series).
Sweep the Leg
also references some other '80s movies like
Back To School
(which also starred Zabka as a bad guy bully) and
Raising Arizona
as well as the music video for The Cars song,
You Might Think
. Enough talking about it, you should just watch it for yourself. It is about 7 minutes long, but it is entertaining.
Sweep the Leg video by No More Kings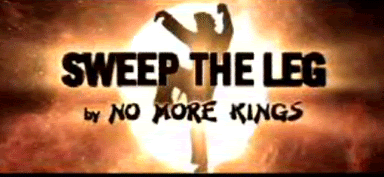 So, what did you think…? If you are not a big fan of
The Karate Kid
, you might not find it as amusing as I do. It is good to see that Zabka does not take himself as seriously as many of his 80s characters did. Hope you enjoyed this little piece of pop culture gold. Peace and much love. If you enjoyed this article and would like to read some more 80s-related articles, If you
click here.
As well, check out the Archives in the upper left hand column to see all past issues of
Kickin' it Old School
organized by month. If you enjoy anything here, please consider subscribing or at least bookmarking it.
Check this out: I have mentioned a couple times how much I dislike Amy Winehouse as a person and that I also do not really appreciate her music much either. Here is a link to a story about how she recently punched an audience member at one of her performances. What a loser. I also came across this picture of her, which features her out-of-control beehive hair do. I can't believe someone would leave the house with her hair looking so ridiculous... Quote of the day: The fruits of life fall into the hands of those who climb the tree and pick them. -Earl Tupper (American entrepreneur and Tupperware inventor) Download this: What's Been Going On? by Amos Lee - I have recommended a couple Amos Lee songs in the past and he just released a new album titled Last Days At the Lodge with this song being one of my favorites.