Click here to visit Treasure Finds
Growing up, Dads were the dispensers of all wisdom. "Shut the door, did you grow up in a barn?" was a popular one. He was also in charge of reminding us that contrary to popular wisdom, money did not grow on trees. We laughed and left the doors open then, but now appreciate these early lessons (plus the great bedtime stories).Make your Dad proud by remembering those thrifty lessons when you shop for a present for his special day. From now through Father's Day, all orders, no matter how big or small, will ship free inside the USA! We love our international customers too, so we're shipping airmail for half price.Women might love our jewelry, but men find we have one of the nicest selection of hard-to-find cufflinks, moneyclips, tiepins and other items perfect for your Dad. Here are some ideas to get you started, but as always, feel free to email or call us if you want any help!
Money Clips
One of our all time classic gifts for guys, there's no worries about finding the right size and we've got classic styles for everyone. If you're really feeling generous, these are especially popular when stuffed with wads of hundreds, but a folded up note with a special thought just might bring a tear to his eye, too.
Click here to see more money clips
Cufflinks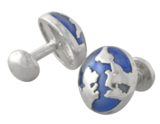 No question about it, cufflinks are our all time best seller for guys (and some stylish girls, too). French chain and bar styles, we have them all in classic sterling and dramatic gemstones. We have one of the best selections of sterling silver cufflinks anywhere with over 60 great designs. If the dad in your life wears cufflinks (or should) here's the chance to make his day.
Click here to see more cufflinks
Anam Cara Ring
If you're lucky your Dad is more than a father, he's a good friend, too. The Celtic words "anam cara" mean "soul friend". The words are from the ancient Celtic belief that some friendships run so deep that they reflect an ancient bond or connectedness of two people's souls allowing them to understand, trust and support each other on a level beyond most mortal relationships. We also have Anam Cara pendants, lockets, and bracelets.
Click here to see more Anam Cara items
Sincerely,Matthew & Rebecca Gelber