Eat, Love, Pray
(Viking, 2006) is a huge seller: currently #5 on the
USA Today Best Seller
list,
it has spent 54 weeks on that list
, eight weeks of which were spent in the #1 slot. The book has sold 4.4 million paperback copies, and just under 200,000 in hardcover. Eat, Love, Pray has been heavily pushed by Oprah, but has had a surprisingly polarizing effect on readers across North America. In short, you either love it or you hate it.
Eat, Love, Pray
is about the spiritual journey writer
Elizabeth Gilbert
takes to the three 'I's: Italy, India and Indonesia. The pilgrimage is an attempt to reclaim her life (and her sanity) after a traumatic divorce. Subtitled
One Woman's Search for Everything Across Italy, India and Bali
, the book chronicles the four months she spent in Italy learning the Italian language and eating her way through her pain; the four months she spent at an Ashram in India with a guru, working on her spiritual side, and her final four months in Bali, where she continued on with her spiritual quest, and ultimately found love.The book has alternately been described as intelligent, self-indulgent, soul searching, self-absorbed, and self-deprecating. It set off a firestorm when New York Post book reviewer
Maureen Callahan
described the book in an article entitled,
Latest Self Help Bestseller Proves Faith is Blind
as one of
"Western fetishization of Eastern thought and culture,
and laments that "
readers are using Eat, Pray, Love as ... an excuse to have that extra glass of wine, and as a license to abandon all critical thinking.
" She further goes on to state that the book is "
assured in its answers to existential dilemmas that have confounded intellects greater than (Gilbert's). You may be a well-off white woman, but if you are depressed, the answer can be found in the East, where the poor brown people are sages. Gilbert's nearly toothless ...medicine man often doesn't recognize her, and her medicine woman nearly hustled her out of $18,000, but these are inconvenient details her worshipful fans ... disregard.
"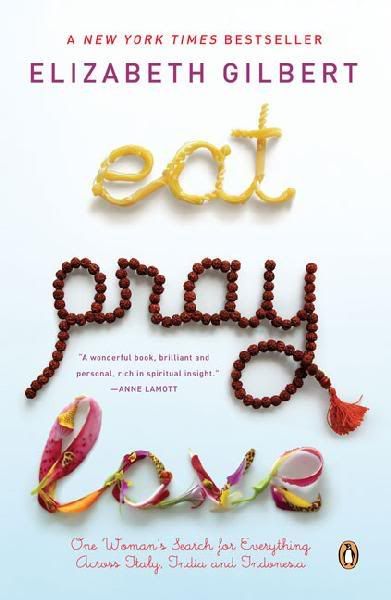 So there you have it in a nutshell: Gilbert, a very successful writer, who apparently has it all (a loving husband, a house in the country, an apartment in Manhattan, a high-paying job that allows her to travel the world) hits thirty and decides she doesn't want to be married anymore. Note that she is the one who opts out of the marriage; the trauma of her divorce comes about because her husband, who loves her, is unwilling to just pack it in on a whim. Gilbert's trauma was all of her own making - that's the part that stuck in my craw the most. The rest of what happened (her decidedly minor troubles adjusting to the Italian culture, her troubles adjusting to the silences and serious study required at the ashram, her troubles understanding and dealing with the people she met in Bali) were also of her own making, but at least those she managed to overcome.I guess what strikes me the most is that I wonder just how far she's actually come: first, she gets out of a good relationship only, at the end of the book, to get into a good relationship. Seems rather circular to me.