Interview With Seether (Dec 11/07): John Humphrey Drummer Part One
By: Shane Christensen
Behind every great drummer is an awesome mom, and an awesome wife.
John Humphrey
Swank Home
Swanktrendz Myspace Home
Visit Seether Myspace
This Article is written in two Parts, the second part
can be found here Seether Part Two
I used to be a faithful reader of Rolling Stone back in the '70s because the magazine was cutting edge and very relevant at that time for those of us whose musical palette ran the entire spectrum, including fringe or obscure acts. But even then, I noticed there was an elitist and snobbish tendency in reviewing albums, especially if the band in question did not fall into their idea of the cool or politically appealing acts like Springsteen or U2. ( My idea of any fair review is to give the disc a day's worth of listening, even if it kills you.)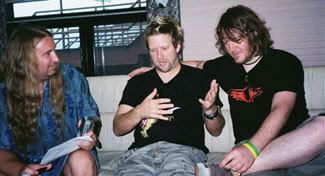 Image from www.glam-metal.comSo as I did my research for a
Seether
phoner interview with their drummer
John Humphrey
, I wasn't surprised at what a terribly biting and unflattering review their new release,
Finding Beauty In Negative Spaces
, received from the rag/mag. And as an ongoing supporter of the underdog, I was truly hoping that I would (at the very least) like
something
about their new album. I have always felt bad reviews can be a result of ulterior prejudice/motives or even the jealousy of a fellow musician who just didn't make it; who hates anybody who is on their way to fame and fortune.I was pleasantly surprised upon the initial few listens, realizing this would be an album that wouldn't kill me to listen to,
which makes the whole process a lot more enjoyable.
In fact, I like their music very much. I state this based entirely upon their most recent release,
Finding Beauty In Negative Spaces
, and the previous album
Karma and Effect
. I have only heard a couple of cuts from their first release
Disclaimer
, but something tells me it will be under the Christmas tree.Seether is already famous for a few non-musical items that I won't go into because it's been written to death, but this band could rival Def Leppard for surviving personal pain and calamity amongst its members, and for this they have my admiration and respect. Heading into the interview, I have to admit I was excited because I'm a drummer and I think John is incredible at his craft. I would compare his talents to those of one of his predecessors in Seether,
Josh Freese
, (one of my all time favourites in his work with
A Perfect Circle
.)In speaking with John, it was evident that he is a true rock journeyman; dedicated member of the band, who enjoys the current ride Seether is on with the hit song
Fake It
and album. Due to the length of my interview with John Humphreys, this article will be read in two parts. As well, A special Swanktrendz thank you goes out to
Lisa Pieterse
at
WindUp Records
Canada, for her generosity and effort in organizing this phone interview.
Swanktrendz,ST
- Thanks for taking the time out of your very busy schedule to speak with Swanktrendz, John. It is appreciated. How is the tour going for you?
John Humphrey, JH
- It's going great. We started back in August, about 3 months prior to the release of the album in the States, supporting
Breaking Benjamin and Three Days Grace
. We had been off the road and away from touring for about a year and we just wanted to get out and play, and that support position seemed like a great opportunity to get in front of some people who are also our fan base, as well. Those bands were a great match with good crowds to play to. That tour ended November 19th, and now we're headlining our own shows here in the States. We'll break for the holidays, and then we'll be up in Canada with
Three Days Grace
starting in January.
ST
- Are you looking forward to a month off?
JH
- Yeah, absolutely. We've been hitting it hard for five months and a three week break is a well deserved break and holiday which gives us the chance to go home and see our families.
ST
- I had read on the internet that you toured with the
Nixons
(previous band) upwards of 300 shows a year?
JH
- Yeah. That was kind of my foyer into the music industry, my baby years, you know? I really cut my teeth with that band. I joined the
Nixons
in '92 and was with them 8 years through to 2000. They were similar to
Seether
as far as the music genre but we lived the work ethic of a road band who lived out of our suitcases, and who played 200 to 300 shows a year. It's the same effort with Seether, you know? So I was used to the work ethic when I came to this band.
ST
- Was that one of the things that Seether was looking for when you came on? That commitment to the road?
JH
- Absolutely. They want not only a qualified musician, but someone who was compatible with the mentality that Seether is a road beast that lives out of suitcases. We like being in the studio and making albums, but our thing is taking it to the people, living on the bus, and hitting the road. I think that's a constant philosophy throughout my early life and background, and I think that attitude helped, along with my 'around the block' experiences. Having to speak a couple of times, kind of helped my position, too. Some musicians are a little green and haven't done this type of questioning and really aren't used to the rigours of it all.
ST
- On a personal level, how does being in such a hard working band affect a marriage? Or do you have a very understanding woman?
JH
- (Laughing) Yeah, absolutely, man.
Behind every great drummer is an awesome mom, and an awesome wife.
My mom put up with the 'wood shed' years with my rehearsals in the shed and the garage, and my wife is absolutely supportive. She knows that music is a big part of me as a person, and my kids are my biggest fans, and biggest fans of this band. They're wonderful to have and are very supportive as well.
ST
- Do you find during the shows now, because of the success of the single
Fake It
,there's a reaction from the fans?View Seether Video here courtesy of WindUp Records Canada
Watch' Seether's Fake It Video
JH
- You mean an immediate reaction as we're playing it live?
ST
- Yes, exactly.
JH
- Yeah, definitely. When we started in August, the song was obviously just starting in radio, so it's been interesting to watch the evolution and familiarity of the song as it becomes a high point for the fans. Now when we kick off that bass line, it's immediately recognized and there's that instant crowd response. Back in August, the response was a little slower, but now it's definitely the show stealer and it's been great to really watch that song grow up.
ST
- I guess it's picking up steam the longer the song and video are charting?
JH
- Yeah, absolutely. It's done well and I'm really proud of it as I think we've done a video that fits the song really well. I think it's the first time that a song and video have come together like that for us and where the interpretation for that song is put into the video. I think fans and people have really responded positively to both the song itself and the video that provides the perfect meshing. I think the song has triggered something.
ST
- How has the band dynamic changed playing live, now that you're a 3 piece? Is there a big difference?
JH
- Yeah, it's a lot of fun, and I think it sounds great. There's not a lot of 3 piece bands out there, so I think it's interesting. We go back and forth about bringing on a guitar player, but we're having a lot of fun being a 3 piece so we're not too sure if we're going to do that or not.
ST
- I had read recently that
Shaun
was considering adding a second guitarist for the live shows. Are there any concrete plans to do so right now?
JH
- No, not concrete. But we've definitely kicked it around and there's guys out there we're considering. In fact, we're going to be talking about it tomorrow at a band meeting, and figure out what we're going to do.
ST
- Is there a chance that
Pat Callahan
might return to the band?
JH
- I don't think so. I think he is much happier now.
ST
- I'd like to talk about your drumming influences going back to when you first started playing. Who would you say were the guys that inspired you to drum?
JH
- I was definitely influenced by the '80s era of music and concerts back then. I really dug the big shows and presentations that had the drummers that you could see visually all the way to the back of the arena. It's drummers like
Tommy Lee
, and I love guys like
Tommy Aldridge
that I saw way back when with
Whitesnake
. *I really love
Dave Grohl
, but it took me to when he started playing with
Queens of the Stone Age
on the album
Songs for the Deaf
to really appreciate him as a drummer. I do understand that as a drummer he was supporting the music, playing great fills, driving the great melodies and songs that Cobain was writing. When he did the
Queens of the Stone Age
album, he kind of went off a little bit and showed his skills and abilities, and I became a fan of his.
ST
- Along those lines, have you been following any of the Zeppelin clips that were on
YouTube
today?
JH
- (laughing) I haven't, but I'm a huge fan of
Jason Bonham.
In fact, back in the Nixon days I was fortunate enough to do a few shows with him as he had a band that was doing Zeppelin covers and stuff, so seeing him doing that, it's really amazing. I hope they follow it up with a tour 'cause somebody asked me the other day
What would be your dream tour
? and I never thought I'd have the chance to say it,
but if Zeppelin goes on tour I'd give my right arm to play a show and open for them.
Although I'm sure they have enough material that they could probably handle the whole night all by themselves.
the second part
can be found here Seether Part Two