Visit Swanktrendz
On December 15th, I was invited to the Cobalt Hotel to celebrate Rob Schindel's birthday. Rob's better half,
Ani Kyd
, had arranged Rob's birthday festivities as well as the evening's entertainment which included several of Vancouver's celebrated underground musical artists.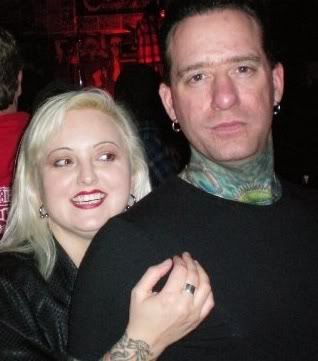 The evening opened with Ani's son,
Michael Kyd
, performing an acoustic set. Michael's act is entertaining especially because of his self deprecating, witty lyrics. His songs are performed in a 'confessional/ narrative' style; serious, contemplative lines countered with amusing statements like,
'…but I just beat a twelve year old girl… in swimming
.
Next in the evening's line up was Dirty (Derek) Swagger performing his songs with a Johnny Cash/ Kenny Rogers country flavor.
Mr. Plow was third on stage and hilarious from start to end. His tunes' titles, alone, are amusing: 'Let's Get Fat Together', 'Biscuits and Gravy', and 'Fuck DOA'. Anyone who can work the lyric 'Feel my girth' into a song, deserves a listen. I also feel his songs are so quick with the one-liners and innuendos that one would have to listen to his act several times to catch all the inside jokes (and it helps if you're over the age of thirty, or very well read, to catch the cultural jabs).
Understandably, I got a couple of 'Are you for real?' stares when I asked who performer number five was. "Cummings? Is that with a g?" I inquired. Then it clicked. The fellow crooning in his best Elvis voice was none other than Jim Cummings of I, Braineater. I apologize everyone, but I haven't seen the fellow since the '80s, and believe me, we have all changed considerably since then. His voice is like a fine wine and has improved with time.
Gerri Jen Wilson of JP5, Spank Machine etc., took the stage for her first solo venture. She started her set with 'These Boots are Made for Walking' and ended with the Rezillos' 'Somebody's Gonna Get their Head (Kicked in Tonight)' . She sounded great and looked very comfortable without any bandmates to accompany her. Perhaps we will be seeing more of solo-Gerri in the future?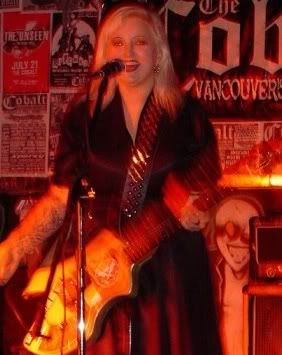 Then our gal of the moment,
Ani Kyd
, took the stage as the final act. Her acoustic set was definitely an interesting take on her usual hard-driven songs.
Creepy Feeling, 13,
and
Rejoyce
adapt very well to an acoustic venue, but I was very surprised (and pleased) with the softer offerings of
My First Kill
and
Erase
. The acoustic vibe allows the focus to fall on Ani's vocal range, especially with
Erase
. I think Ani should record and release a disc of acoustic tunes (with a mixture of new and old) as she may find herself with a different, yet still homogeneous, fan base.
It was a fun evening full of musical surprises. Well done, Ani, and happy birthday, Rob.