Swank Home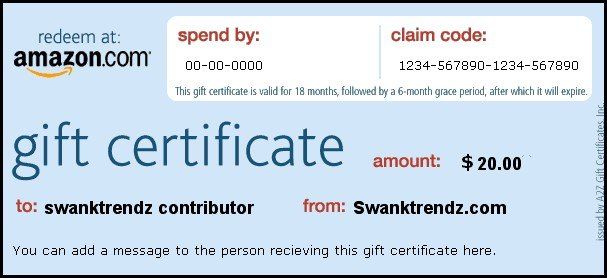 By: Christine, Swanktrendz Administrator
As we would like the 'Letters to the Editor' to be a lively and/or controversial addition to swanktrendz.com, we are offering $20.00 amazon.com gift certificates for the first 5 letters that get published in our new section, 'Letter to the Editors'.
This is a one time offer - so get those letters in!
This is your chance to sound off, contribute ideas, discuss your favourite contributor, have your opinion be heard, suggest new categories, and/or make suggestions for our web design layout. Peruse our archives as well and write a letter about anything that catches your eye/attention.
The steps are easy:
a) click on contact,
b) write your name (or a pseudo name) your email address (for verification)
c) write your letter to the editor*
d) submit
e) wait and see if your letter is published.
Remember - we
do NOT harvest email addresses
to forward to others. Your email address will be deleted as soon as the winners have been chosen and informed.
Get involved! Swanktrendz.com is as much for your entertainment, as it is for ours in producing it.
*Swanktrendz reserve the right to edit letters for brevity and clarity.