Swank Home
Laurence's Home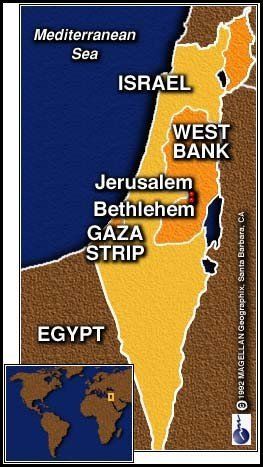 Well, the Israelis are thinking about
leasing security restrictions on the West Bank for pilgrims to reach Bethlehem on Christmas,
so
you know what that means...
Security forces on Monday morning chased down two Palestinians near Jerusalem who had apparently intended to carry out a terror attack in the capital city, Army Radio reported.

The two youths, who threw firebombs at security forces during the chase, were eventually arrested attempting to cross the separation fence near Jerusalem's southern Har Homa neighborhood.

The two, aged 16 and 17, were carrying carrying two pipe bombs, fire bombs and knives and had a Hamas flag.
But that's not all...
Also Monday, Israel Radio reported that security forces have captured a Palestinian terrorist who had managed to infiltrate southern Israel from the Gaza Strip.

The terrorist, who was carrying an explosives belt, firearms and grenades, was captured near Kibbutz Nir Am, located adjacent to Sderot in the western Negev region near the Gaza border.

Security forces were involved throughout the night in chasing the terrorist, who was captured alive. He had apparently intended to carry out an attack inside Israel.
Sadly, none of these captured terrorists were allowed to martyr themselves in sealed concrete bunkers along with their explosives.
How hard it must be for their virgins in Paradise, waiting a little bit longer for their beloved to arrive in bits and pieces. I feel badly for the... what's three times seventy-two again?