Where and When: March 6, 2010 Interior Savings Stadium - Kamloops, B.C.

Swanktrendz T-blog
Swanktrendz Myspace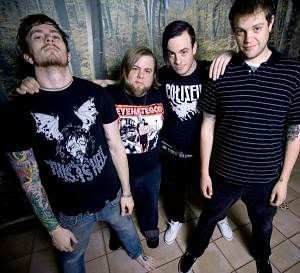 At 6:45 sharp.
Cancer Bats
took the stage at Interior Savings Place (stadium home of the notable Kamloops Blazers). The band came out with guns blazing; they've could have been playing for 10 people, or 10,000 - either way, they gave it their all. Four songs into the set, the singer actually stopped and formally apologized to the natives of Kamloops for having never toured in their city before. I think it dawned on him that the packed mosh pit was for them, rather than the usual ten rockers, determined to hold their spot until Billy Talent appears. Cancer Bats' biggest crowd pleaser was their rendition of the
Beastie Boys',

Sabotage
. Was this band my type? No, but I could appreciate their talent: the shredding guitar, stage presence, and good vocals. My co-reviewer concluded that Cancer Bats' act came second, in talent, only to Billy Talent. Quite a compliment. The Cancer Bats hail from Toronto, and consist of: singer
Liam Cormier,guitarist Scott Middleton, bassist Jaye Schwarzer , and drummer Mike Peters.
They were clever enough to continue promoting the band by having merchandise for sale, as well as offering a free sample CDs. The members appear charismatic and Liam, especially, has good stage presence. Well done, gang.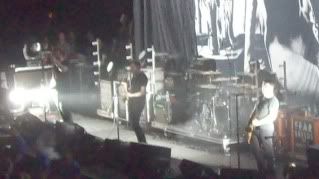 Second on the bill was
Against Me
(my favourite band, second to Billy Talent, and with exception to
Dallas Green
whose voice leaves me speechless). Gainesville, Florida native,
Tom Gabel
, began his music career as a 17-year old solo acoustic act known as
Against Me
. He soon invited on board the others who make up the band (please realize, this band's been around since '93).
The Vocalist/guitarist is Tom Gabel, bassist/vocals is Andrew Seward, drummer is Warren Oakes, and guitarist/vocals is James Bowman
. Mind you, we did see a fourth unnamed rhythm guitarist playing throughout the set.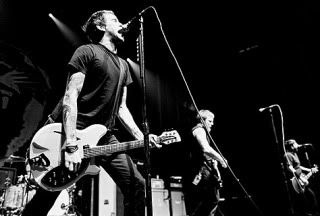 They finished their set with
Thrash Unreal
, which seemed to wake the whole stadium out of its stupor into an "...oh, I know this one...", and then the crowd thrashed about .'
Against Me's
' song list included:
From Her Lips to God's Ear, Stop, White People for Peace, and White Crosses,
amongst others. Their set was fast-furious, no pausing, no chitchat (they had to fit ten years of music into 36 minutes). But hands down, they had most socially-current, politically aware, and intrinsically-accountable set there was. The lyrics were complex; making you want to "Google", when you get home in case you missed a lyric. Yes, I recognize Ben (of Billy Talent) also writes great songs, but these lyrics demanded from us, a social conscience, and hence, was lost on many in attendance. Of all the bands,
Against Me
were the ones who stood out as not being 'screamo' enough. They didn't seem to fit the genre bill, but they did fit the social conscience bill.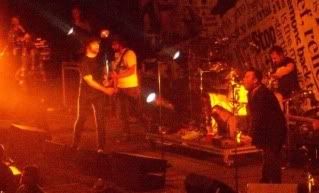 Not to make light of a horrific incident, and I am being sincere when I say that you know a band has "arrived" if fans are getting randomly trampled during the rush to the stage. During their gig for the Olympics, Alexisonfire had to stop only 10 seconds into their gig. Welcome to
Alexisonfire
.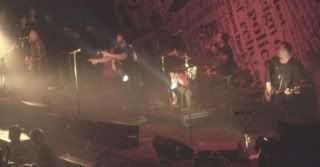 Alexisonfire
took the stage at 8:22 and delivered exactly what the crowd expected, and no one left disappointed. Hailing from St. Catherine's, Ontario, the band consists consist of:
vocalist George Pettit, guitarist/ pianist/ vocalist Dallas Green, vocalist/ guitarist Wade MacNeil, bassist Chris Steele, and drummer Jordan Hastings.
Alexisonfire are also clever lyricists, as heard in songs :
Cardinal, Rough Hands, Born and Raised, Boiled Frogs, Old, Crows, and This Could be Anywhere in the World,
amongst others. I'm not much for screamo rock, but the absolute contrast between
Dallas Green's
voice and
George Pettit's
somehow makes it work. As for Dallas Green, his voice is so achingly beautiful, for lack of a better description, makes me want to cry with appreciation. His talent is stunning.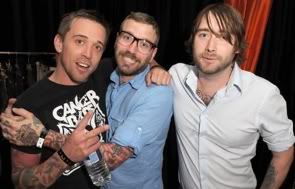 (Image of Dallas, Ben and Chris is from Much Music Awards, taken by George Pimentel/WireImage)When I looked around, I was surprised to see how many inner-child, male seat-rockers there were - you know - those kids who rock back and forth violently in order to find some form of comfort. Well, Alexisonfire, brought out the literal seat-rockers in a lot of men sitting in the bleachers. While Alexisonfire was performing on stage,
I'd like to thank George Pettit for having the best fan/mosh-pit control I have seen in ages
. And he did it all without actually mentioning behaviour or expectations. He was just very good at diverting attention.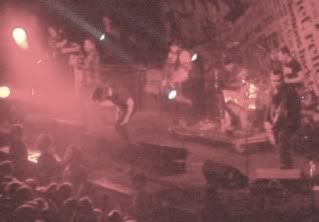 At 9:30 sharp, our men of the hour -
Billy Talent
- came out to rock us. Opening with,
Devil in a Midnight Mass
, my first reaction was, Uh Oh.! I wasn't confident that Ben could maintain his vocal high and low pitches, nor keep his strong, sustained notes, judging by his vocal struggle/straining with his first tune.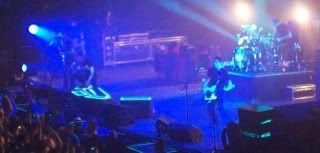 But only
Ben Kowalewicz
knows the true secret in maintaining his voice, especially when songs demand so much from a singer… Voila! In Kamloops Bizarro World, the reverse occurred! Ben's voice actually got better and better as he belted out tunes such as:
Honesty, Surrender
(which he jokingly dedicated to Dallas Green's voice),
Red Flag, Rusted from the Rain, Nothing to lose
, amongst others, until we could no longer tell the difference between his voice and his voice on a good stereo system. Ben's voice was in peak form by the time be got to the encore,
Devil on my shoulder and Fallen Leaves
. I can only shake my head, and wonder, how does one become so talented?
Ian D'Sa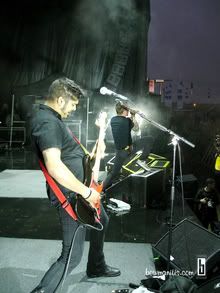 was in fine form - looking good and sound great. He and Ben complement each other, and my co-reviewer noted that it is like Ben is responding (in song) to Ian's guitar. One of these days, I would love Ian to shave his head, just to see what the response would be. With some fans, how much is music driven, and how much is trend driven?As well, bassist,
Jonathan Gallant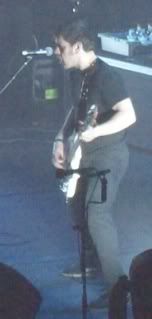 and drummer, Aaron Solowoniuk
at their best which reinforced the band's worth ethic (that they put forth their best effort regardless of where they're playing, and how many they are playing to.) Another trait I enjoy about this band is their awareness of various charities, without calling attention to themselves for doing so. Look at each member, and you will be impressed with the level of education they've reached as well as fundraisers they've spearheaded. The quintessential Canadian band.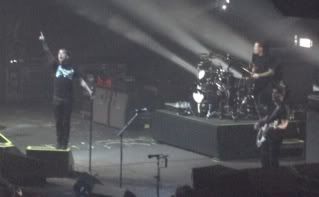 Final verdict:
Amazing! 9/10
They would have scored 10/10 if they hadn't 'forced an encore
" (many readers have heard me rant about this before). Obviously Ben is going to sing his top two hits of all time,
Fallen Leaves and Devil on my Shoulder
, so to say Goodnight and saunter off the stage was off-putting to me. I stuck around long enough to see if the roadies would pack up... but no. So off we went into the Kamloops' evening