Read more of Shane's Articles at Swanktrendz
The names of the top N.H.L. goal scorers of all time looks like a list of hockey royalty as it is filled with some of the greatest players who ever played the game. It includes those from an earlier era with names such as
Howe, Mikita, Richard, Beliveau
, and
Hull
, who were responsible for much of the popularity of professional hockey in North America.This allowed the league to expand and players' salaries to increase substantially, so that most players could earn a respectable income and not have to work during the off-season, as was the case in earlier times when the original six teams first started out.The top goal scorers from this era were as follows:
Gordie Howe 801, Bobby Hull 610, Johnny Bucyk 556, Maurice Richard 554, Stan Makita 541, Frank Mahovolich 533, Jean Beliveau 507, Jean Ratelle 491,
and
Norm Ullman 490.
The next generation of players included the names of
LaFleur, Esposito, Bossy, McDonald,
and
Perrault,
and they can be thanked for taking the league to the next level as some played for expansion teams that would go on to become Stanley Cup champs, or finalists. This further cemented the leagues' status as the number one professional ice hockey organization in the world, and allowed for even further growth and expansion.The top goal scorers from this era were as follows:
Marcel Dionne 731, Phil Esposito 717, Mike Bossy 573, Guy Lafleur 560, Michel Goulet 548, Bryan Trottier 524, Gilbert Perrault 512, Lanny McDonald 500, Darryl Sittler 484,
and
Denis Savard 473.
When the next generation of great players came around, the league would see a huge increase in both popularity, franchise appreciation (value), and further expansion into non-traditional hockey markets in the southern United States. The names include
Gretzky, Lemieux, Messier, Andreychuk, Yzerman
, to name a few.The top goal scorers from this era are:
Wayne Gretzky 894, Brett Hull 741, Mike Gartner 708, Mark Messier 694, Steve Yzerman 692, Mario Lemieux 690, Luc Robitaille 668, Dave Andreychuk 640, Jarri Kurri 601, Ron Francis 549, Bryan Trottier 524, Pat Verbeek/Mark Recchi 522, Dale Hawerchuk 518,
and
Pierre Turgeon 515.
And finally, there is a group of active players that have amassed a number of goals that puts them in this elite group. The names include the likes of
Jagr, Sakic, Shanahan,
and
Sundin
, and these individuals are ensuring the popularity and viability of the league remains. With a new crop of future record holding players such as
Crosby, Ovechkin
, and
Malkin
currently racing up the goal scoring charts, it will only be a matter of time until their names are put in the same category as their predecessors.The top goal scorers on this list are:
Brendan Shanahan 650, Jarmomir Jagr 646, Joe Sakic 623, Mats Sundin 555, Teemu Selanne 552, Mike Modano 528, Jeremy Roenick 509,
and
Keith Tkachuk 500.
The one ingredient that all these amazing players possessed was the will to be the very best, and never settle for second place. All great players possess comparable skill levels such as skating and passing, but those who truly stood out amongst the crowd did so because they gave that little extra that enabled them to score when other mortals would have not even had a chance at a goal.It's therefore no surprise that of the top goal scorers in the N.H.L., most have played on either Stanley Cup champions or finalists as the greatest goal scorers are usually the franchise players whom the team can build around to create a champion.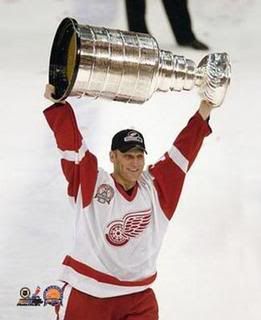 Brett Hull Image from: rangers.lohudblogs.com