Visit Swanktrendz and read more of Shanes's articles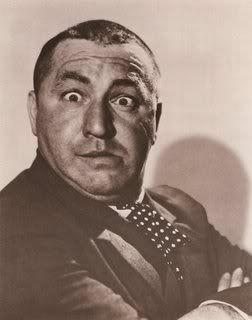 Curly Howard Image from: www.art.com
Most people on the street would probably have no idea who
Curly Howard
was. But if you were able to impersonate his "nyuk-nyuk-nyuk" or "woo-woo-woo" sounds, a smile would immediately come across all the faces as they answered in unison, "oh, that Stooges guy." And a true measure of how much of a comedic icon he really was is that fact that people today still recognize him but his zany and totally one-of-a-kind antics.There is little argument that Curly was the fan favourite of that hilarious comedic troupe known as
The Three Stooges
. And although he was a source of constant hilarity on the screen, Curly never had too much to laugh about during the last years of a life which was filled with serious health problems that were a result of a wild and excessive lifestyle that rivaled some of the rock stars of the 1960'sBut it wasn't always like that, because Curly was born
Jerome Horwitz
, the youngest of a family of five boys, into a nice Jewish home in turn-of-the-century New York City. His early life was a fun-filled exercise of having his older brothers, who nicknamed him Babe, include him in their small comedy productions that they put on for the neighbourhood kids, charging a couple of pennies for admission. Babe was only 4 years old when he made his first stage appearance, and there's no doubt that the experience had a lasting effect on the young child who would live his entire childhood in show business, up until he was no longer physically able to do so.
Some of "Jerry's" greatest loves as a young man, and later as an adult, were music, musicals, and comedy. Most people were shocked to hear years after he died that he actually had a beautiful singing voice and that he was an accomplished ballroom dancer . He also loved nothing more than to watch and hang around his older brothers Moe and Shemp, who were a part of a vaudeville act that was gaining quite the following. This act was led by a brash and alcoholic Ted Healey, and included another stooge named Larry Fine.
Because Jerry was a constant fixture at Healey's shows, he was entirely familiar with the entire skit and was a natural to replace his brother
Shemp,
who had decided to pursue a solo acting career. The only requirement was that Jerry had to shave his curly locks and mustache for greater comedic effect, but this caused him great distress as he felt he was no longer attractive to the opposite sex.But Curly never lacked for the love of the fairer sex, as he would end up being married a total of 4 times in less than 20 years, and also had quite the reputation as a womanizer and carouser. This behaviour only intensified after celebrity fame and fortune entered his life, and he began a steady and vicious physical slide that was exasperated by smoking, heavy drinking, and living the wild life.As lovable as Curly was on the big screen, in real life he was reckless, spontaneous, and financially irresponsible to the point that older brother Moe eventually took authority over his spending because he was incapable of any type of control. By the time he hit his forties, his body would begin to suffer the effects of a lifestyle that was almost suicidal in nature.A succession of strokes affected all areas of Curly's life, and eventually he suffered one that was big enough to physically disable him. By this time he had met and married his fourth and final wife,
Valerie Newman
, who would go on to become the mother of his daughter and loyal nurturer in his final hellish years.Jerome Horwitz eventually succumbed to his physical deterioration in January '52 after suffering a massive brain hemorrhage while in hospital, at the relatively young age of 48. By this time his brother Shemp had returned to replace him in the Stooges, who would go on entertaining millions for many more years.But it was never the same without Curly, and Moe was always the first to admit it. Because Curly had the rare ability of encompassing all aspects of comedy (including physical slapstick), and his nonsensical sounds and actions, such as spinning around the floor or going "woo-woo-woo", still make millions laugh to this day.It's just very sad and tragic that a man who entertained millions and put smiles across all of our faces (and continues to do so) had to die in such a horrible and hellish fashion. Rest in peace Curly, and thanks for the years of laughter.