Mute Math April 20, 2007
Richard's on Richards
Full Capacity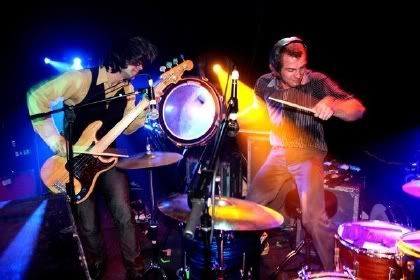 ...because they are one of the greatest live bands touring the club circuit these days. Their experimental ... sound good on disc, but phenomenal when brought to life... (By Jen Cray @ ink19.com - December/06)
I republished the above excerpt after coming across it on Saturday. It summed up perfectly what I felt after leaving Mute Math's concert.
Mute Math (Darren King - drums, Greg Hill - guitar vocals, Paul Meany - guitar/vocals, and Roy Mitchell-Cárdenas - Bass) played Richard's on Richards Friday, April 20th. The venue was close to being sold out - if not already sold out. This was a good sign considering another cult fan favourite, Blonde Redhead was simultaneously playing at The Commodore. (Personally, I'd rather have three hours of dental work than bear witness to BR's caterwauling again.)
Swank's superficial crowd observations: this was a young crowd aged approximately 19 - 25. The male to female ratio was 5 to 1, which I have come to realize is a good sign for a band's staying power. Plaid shirts, Royal Air Force tees and various grunge getups were the outfits du jour. Mute Math's appearance on stage had me scratching my head and double checking the CD pictures. Not that they're an unattractive lot - far from it - but they are also not the 'eye candy' they appear to be in the CD's photos. I want their photographer to snap some pictures of me.
After a bland 2nd (Someone Still Loves You Boris Yeltsin) opening act, Mute Math singer, Greg Hill, took the stage drumming, banging a gong and making a huge entrance. Drummer, Darren King, is a force to be reckoned with. He is mesmerizing on his own - laying down the huge sound that has made Mute Math so popular in the indie scene. King also had headphones taped on (listening to a click track?) The tape came in handy given the amount of energy Darren pours into his playing, frenzied and fabulous. Hill could have used some headphones as well, just to tone down his occasional screams blasting through such an acoustically challenged venue.
Kudos to Mute Math's sound and lighting technical crew. The band focuses on giving an exciting show no matter how small the booking. The lighting was impressive - floor to ceiling neon, often triggering the crowd into an anticipatory frenzy. The sound highlighted MM's attention to song endings. The sound was crisp - with songs ending perfectly, swift and concise and no over the top, solo, trailing guitars/ drums. Again, with Richard's on Richards being known for its poor acoustics, sounding this good was an achievement in itself.
Mute Math has around eight songs that, after the first three chords are played, send the crowd into blissful ecstasy. Bands usually have around three to four songs (unless, of course, they're a band with 5 albums under their belts) that draw the, 'Ohh! I looovve this song!' response. Mute Math has released an (2004) EP and in 2006, their debut CD. Given this stat, eight songs is a huge percentage. This band is here to stay.
A marketing aside - Mute Math's CD reminds me that all the downloads in the world cannot replace good CD liner notes/ inserts. Mute Math is obviously aware of this and gives their fans a portable, in-your-hand publicity prompt. As well, their clothing/merchandise line has a simplistic, catchy design and all merchandise was selling at a quick pace.
Mute Math is selling out venues all across Canada and the USA for their North American tour.
4/24/2007 - Virgin Megastore, 6:00 PM, San Francisco, CA
4/24/2007 - Slim's, San Francisco, CA
4/25/2007 - House of Blues Sunset Strip, West Hollywood, CA
4/26/2007 - M-Theory Music, 6:30 PM, San Diego, CA
4/26/2007 - House of Blues, San Diego, CA
4/29/2007 - The Clubhouse, Tempe, AZ
5/1/2007 - Sunshine Theater, Albuquerque, NM
5/3/2007 - La Zona Rosa, Austin, TX
5/4/2007 - Granada Theater, Dallas, TX
5/6/2007 - The Meridian, Houston, TX
5/7/2007 - House of Blues, New Orleans, LA
Images from Joy and others at Mute Math's Myspace.com page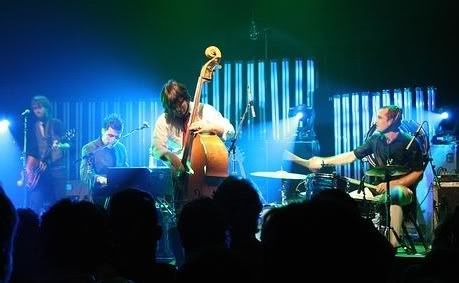 www.mutemath.com/
www.myspace.com/mutemath