Los Angeles
We're recently returned from our sojourn to the sunny state of California. At times I felt like I was very much at home, while at other times, I felt very much a stranger in a strange land. 80 degrees on Christmas Day? A bit hot for my Canadian blood. And all those signs that they have posted everywhere about 'substances on this site have been found to be hazardous to one's health, including causing cancer and birth defects' - a bit disconcerting, especially considering that these are literally everywhere.
Anyway, once we got there, it was a case of what to do, what to do? Sure there's tons and tons of options, but not too many people can fit everything in. Here's my quick and dirty tour of LA for you, in a nutshell.
Universal Studios - Studio City. My advice is, if you've seen it once, you don't need to see it again. I went back in the mid '80s, and, quite frankly, should have saved my money this time. At over $50 per head, the tour (which is really what you're there for, right?) is almost exactly the same - and you never see any bona fide movie stars while there. The best we could manage was Spider Man and the Green Hornet. What is new there is a smallish (compared to Disneyland) theme park, with about four major attractions including Jurassic Park (I understand this one is good, although I did not partake). The tour I liked; the amusement park I could have done without. Also new is the setting of the city in the entrance area, which I did like - lots of shops and restaurants with way, way, way more variety than you get in Disneyland, and much better piped-in music (The Polyharmonic Spree!... and others). If I had my druthers, I'd go for the Warner Brothers Studio tour, which is apparently a little more 'real' and is also about $15 cheaper, per person.
La Brea Tar Pits, 5801 Wiltshire Bl. (Image www.destination360.com).
I grew up watching The Flintstones, but oddly enough, pretty much everyone I've talked to about my visit to the tar pits has been mystified by it, to the tune of, "How did you hear about that?" I thought it was commonly knowledge, but perhaps I was reading more into what Fred and Wilma were saying than I had previously thought... Anyway, to make a long story short, the La Brea Tarpits are one of the world's most famous fossil sites, and also offers the largest and most diverse assemblage of extinct Ice Age plant and animals remains. Located smack in the middle of downtown Los Angeles along the Museum Mile and just a couple blocks from Rodeo Drive (I had always imagined the tar pits being off in the hills on the outskirts of town somewhere), the pits are located on what used to the Rancho La Brea, a working ranch. There is a large park, and scattered amongst the lawn area you can find the pond, with a replica of a Wooly Mammoth family struggling for its life, and some actual tar deposits such as those that have been trapping animals for the past 40 000 years. For a more thorough understanding of that history of the tar pits, you can visit the George C. Page Museum (Page made his fortune in shipping oranges and other California fruit around the world) which is not only a museum complete with fossilized remains on display, but is also a working lab. Pit 91 of the tar pits is still being excavated, and the bones are cleaned and assembled right in front of your eyes in the glassed off lab area. Entrance to the museum is extremely reasonable, around $5 per person.
The Getty Museum had the best exhibits while we were there off all the galleries - but check things out for yourself.
Grauman's Chinese Theatre (formerly Mann's Theatre [1972-2000] ), 6925 Hollywood Bl. (on the corner of Hollywood and Orange) is probably one of Los Angeles' most famous historical and cultural landmarks. In fact, it was declared a landmark in 1968, and deservedly so, as it's the most famous movie theatre in the world. Opened with great fanfare in 1927, the 2200 seat theatre is full of artifacts imported from China; murals adorn the walls and the floor is done in red carpet - very appropriate, considering the theatre has been the site of more movie premieres than any other theatre in the world, and was, during the 1940s, home to the Academy Awards. As well, its equally famous forecourt is home to the hand prints and foot prints to the stars - there are ever a couple nose prints and profiles there, as well as Trigger's hoof prints. And just outside the forecourt is the Hollywood Walk of Stars where you can probably find the name of your favourite actor or singer. To walk around the forecourt is, surprisingly, still free, as is the Walk of Stars, and admission to the movie theatre is a very reasonable $10 ($7 for children). I visited this site in the late 1980s and was saddened to see that it had fallen into neglect; the construction of the new Hollywood and Highland almost next door (the new home of the Academy Awards) has helped to revitalize the area.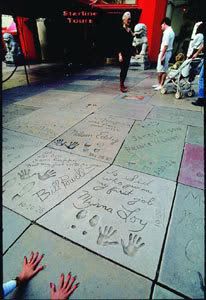 Image - buylosanglestours.com
(www.tarpits.org)