The Orpheum Theatre, Vancouver, Capacity Crowd - November 6, 2006
As usual, The Orpheum venue is a beautiful theatre. A perfect place to listen to the
Goo Goo Dolls
, however, at times one just wants to move around and have fun, whereas a seated venue doesn't allow for that. Don't get me wrong, this was not a staid crowd as I experienced with
Bonnie Raitt's
concert. (I am still struggling with that review.) This audience was more energetic and more vocal - which I would assume is music to performers' ears.Opening performance was
Tomi Swick
who always sounds in top form. He still reminds me a lot of Tom Cochrane. Imagine, it's been 20 years since the band formed in New York in 1986 (then briefly known as the Sex Maggots) but soon formed The Goo Goo Dolls after reading a blurb written in a True Detective magazine. 1998 saw their breakout into mainstream with the song,
'Iris'.
The Goo Goo Dolls have just released their latest (2006) album,
'Let Love In',
which includes Supertramp's
'Give a Little Bit',
along with other known songs. The Goo Goo Dolls consist of
Jonny Rzeznik
(vocal/guitar)
Robby Takac
, (Bass/Vocal) and
Mike Malinin
(Drums)The band appeared happy to be in Vancouver and did their requisite Vancouver name dropping. Robby, sporting dred locks was in high energy form. I found the set to be short given the repertoire of songs they have to choose from. However they did play
Slide, Black Balloon, Smash, Tucked Away, Name, Iris, Let Love In, Feel the Silence, Give a Little Bit
as well as an assortment of other popular GGD songs. When
Better Days
was played, there was a reference made to Hurricane Katrina. Fans really enjoyed the tunes
Naked
and
Broadway
, and when the opening refrain of
Iris
began, it was game over for hearing Rzeznik. The crowd enthusiastically (and quite well I might add) sang every line of the song. It was a song that obviously touched many people on different levels. You could see some crying, some laughing, some hugging and so on. Ahh, the power of music.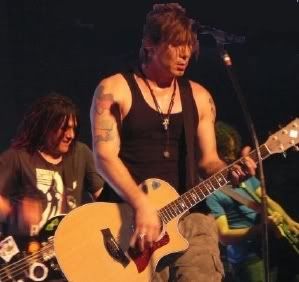 As keyboards are integral to the music, it was nice to see some extra bodies on stage with a keyboard and guitar. It helped fill out the sound somewhat. The only downside of the evening was when I remembered that 'Dred' Robby sings. He sang lead on
Black Balloon, Smash
and
Tucked Away
. Robby sometimes growls through a song as if he has a mouthful of marbles, and he's not too happy about it either. Ah well, it was only for a couple of tunes.Jonny joked about the amount of hate mail they got for the song
'Name'
which guaranteed it airplay. Surprising, as the song 'Name' is an instantly popular song for the fans.I didn't get a chance to interview The Goo Goo Dolls, but the one question I've always wanted to ask is why their song titles do not generally 'set up' the song for the listener. Perhaps next time through.