Red Jumpsuit Apparatus with Monty Are ISeptember 26, 2006Croatian Cultural Centre - medium capacityIt is exciting to experience a band, firsthand, when its popularity has not quite taken off. That is the selfish side of me - the one who wants to hear great music, but is unwilling to experience it at an arena-like venue. If
The Red Jumpsuit Apparatus
can maintain its present momentum, stadium venues are not far off.Two bands opened for RJA; unfortunately I missed the first band (Lorene Drive) but was able to catch the next.
Monty Are I
('Are I' as a play on Rhode Island) banged out their first tune and kept their high energy throughout the entire set. Monty Are I consists of Steve Aiello (vocals, guitar), Ryan Muir (vocals, trumpet), Andrew Borstein (trombone, keyboard, synthesizer, sequencer), Mike Matarese (bass), and Justin Muir (drums). This was an act that was fun to watch - be it for the geometrical hair styling of the lead singer, or the wild dancing and gyrations of the trombone playing keyboardist. The audience may have been small, but they were true 'Monty Are I'ers ' singing along with Aiello for many of the songs. The band also seemed sincere as they repeatedly thanked the audience for their enthusiasm, as well as thanked The Red Jumpsuit Apparatus for the touring opportunity. Vocally, Monty Are I could have sounded better (clearer), but given the venue (the smallest of Croatian's rooms) it was overlooked. Definitely a band worth checking out when they return to our area.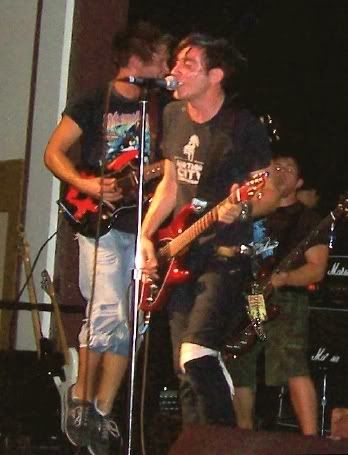 When
Red Jumpsuit Apparatus
came on, the adoration factor hit an all time high. This group has exploded onto the music scene via clever internet marketing and word of mouth buzz. As with Monty Are I, the audience was small in numbers, but huge in sound and feedback. The set opened with 'In Fate's Hand' (a nod to a prior band Ronnie Winter and Duke Kitchens had been in as well as the song chosen to be on Madden 2007 video game). I was immediately aware of RJA's similarity to
Story of the Year
- the two bands seemingly interchangeable. During one song, "Your Guardian Angel', Winter could have chosen to lip synch because the crowd was so loud (and accurate) in their sing-along. Winter physically resembles a younger, healthier, pre-cosmetic surgery Axel Rose in his movements and style. He also appears to be a laid-back, confident singer speaking to the audience as if casually conversing in his back yard. He deadpanned a few statements that were very humorous, but initially hard to gauge whether he was joking or not. At one point, he scanned the audience and remarked that he could see many of the 'dudes' swaying in the background, doing some kind of 'kumbaya thing'. Then he remarked that if we were in Jacksonville, Florida, the audience would show these 'dudes' some serious moshing. That remark made the Croatian Centre a bona fide mosh pit.The one downside to the RJA gig was the length of time that passed between songs. This could have been due to instrument malfunctions, or provided filler for a small repertoire of songs. After the seamless, (in regards to length of time between songs), energetic set of Monty Are I, this time mismanagement was akin to a bucket of cold water thrown on those eager to mosh. The moshers would have their pogoing set to 'high', only to have to stop and wait for the next tune.
On a superficial note, this band definitely fulfills the 'eye candy' requirements of a video band, perhaps a detriment to Winter's serious lyrics such as 'Face Down' (a song about domestic abuse). The Red Jumpsuit Appartus recently released their debut cd, 'Don't You Fake It' in July of 2006 . Purchase it today - it's worth the investment.The Red Jumpsuit Apparatus consists of: • Ronnie Winter - Lead Vocals• Duke Kitchens - Guitar, Piano, Vocals• Elias Reidy - Guitar, Backing Vocals• Joey Westwood - Bass, Vocals• Jon Wilkes - Drums, VocalsNote: Due to line-up changes over the years, the above noted members of RJA may vary with exception to Winter and Kitchens.
http://www.redjumpsuit.com/
http://www.newburycomics.com/rel/v2_viewupc.php?storenr=103&upc=60249858343