Swank Home
What a pleasant surprise (in this season of 'craft fair' invites) to attend a local event that actually goes beyond the 'craft fair' territory and transcends into an 'artisans' event. The biggest differences between a 'craft fair' and an 'artisans' fair' are quality and creativity of merchandise, and price. Artisans generally belong to a guild and to be in a guild requires a 'juried' process. Quite intimidating to the average scrapbooking/crafty person.
Essentially, this fair offered up the high-brow aspect of multi-textural artistic creations. Gone are the doily snowflakes and ribbon tree ornaments, replaced by the one-of-a-kind hand-knitted scarves, hats, ceramics, raku, wood art, stained glass, etc.
I was invited to this fair by Shari Taylor, one of the artisans in the Spinners and Weavers Guild (the organization that arranged the event). The beauty of an artisans' fair is that it allows you to acquire a one-of-a-kind, unique gift for those difficult people to purchase for on your Christmas list. Rather than describe each item at the fair (which would require a significantly larger column) I'd rather do a photo diary of my personal interests and mention the artist(s) involved. This will also allow you to contact them if you see something that intrigues you.
The first items to catch my eye were the wooden art displays. Four artisans had grouped their wares together in an appealing display. There was Margaret's Wood Creations (www.members.shaw.ca/woodcreations), Woodturnings by Colin Delory (www3.telus.net/delory) Rocky Mountain Woodwork by Lance Murphy and hand-crafted wood pieces by Brian Murphy. You could probably get more info re: Lance and Brian via Margaret or Colin.
The second stop of interest was Sandra Reams whimsical paper art. In particular, her handcrafted card/booklets which come with a particular gift. For example, a book about 'Mothers' Sayings' came with a packet of clean underwear. Gardener card/booklets came with an assortment of seeds.

Barbara Paulus' scarves were absolutely beautiful and perfection at its finest - not a flaw to be found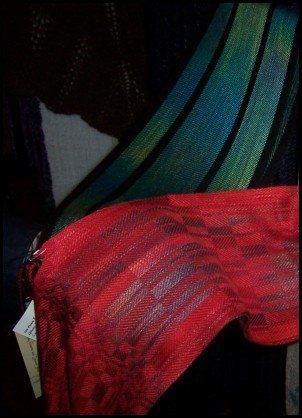 I found a gorgeous hand embroidered jacket by Heleen that also had intricate stitches in its wool.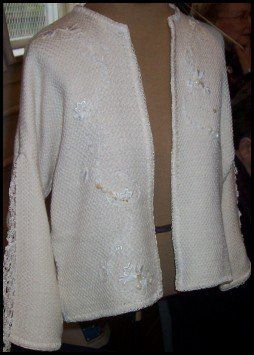 Sandra Harcourt silk-beaded caplet was another item that was so finely crafted that not a blemish could be found.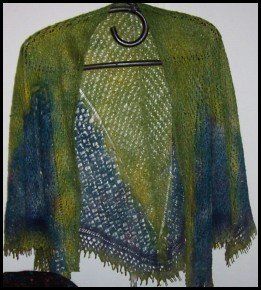 The Glass Puffin's display was beautiful and actually reasonably priced given the amount of hours than must go into the creations. Adrian Renkers stained glass tiffany lamps are a must see. (www.glasspuffin.com)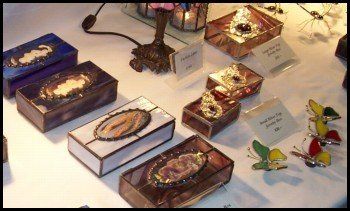 Diane's Herbal Basket offered an assortment of herbal creams, oils and ointments. The packaging was very professional and Diane is also a 'Chartered Herbalist' for anyone in 'need' due to a particular ailment. (www.dianesherbalbasket.com)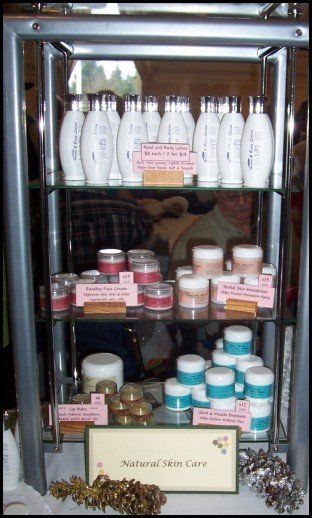 Last, but not least, was Shari Taylor's beautiful hand spun and sewn purses, hats, etc. I did not catch a website for her, but I do know her email is staylor@sd35.bc.ca.
I did not get to profile every item I enjoyed (such as the raku, pottery, jewelry and wool displays as the fair was very crowded and it was difficult getting the information I did.
The fair turned out to be a success, and I personally walked out with a lighter wallet and with some wonderful gifts.
The fair was held on November 5th and 6th at 9142 Glover Street in Fort Langley. It is an annual event, so be sure to look for it next year.