Concert Review By: Christine Albrecht
Vancouver's
Vogue Theatre
Our Lady Peace's
current tour is advertised online as the band's attempt
"...to recreate our Clumsy and Spiritual Machines records in their entirety on two separate nights. We have chosen some of the country's most historic and majestic theatres to insure the sound and lights will be of the highest quality..."
Highest quality, indeed. Our Lady Peace chose a beautiful venue,
Vancouver's Vogue Theatre
, and its updated acoustics, magnified every off-key note, as well as enhanced every mellifluous moment. In contrast to the venue's historical architecture, was an added giant video screen. Images bombarded us throughout OLP's set; images mirroring, sometimes enacting, the songs' variety of emotions. (I suppose the screen was for those suffering with sensitivtiy-recognition-disabilities).
Released in January of 1997,
Clumsy
, was a beloved CD amongst young Canadians (selling enough units to garner diamond status). I effortlessly learned all "Clumsy's" lyrics due to innumerable, impromptu karaoke presentations, courtesy of the tweens I worked with in '97.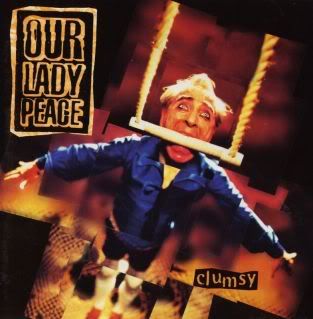 amazon.ca image
I, and my co-reviewer, Ian Albrecht, had been eagerly anticipating this evening for weeks. With no opening act to politely tolerate, we were presented with Our Lady Peace on time, and the crowd appeared (translate - LOUD) thrilled to re-experience OLP's Clumsy. To reinforce fan expectations,
Raine Maida
introduced the gig stating that
Clumsy
would be played in its entirety (enthusiastic response), followed by a brief intermission, then OLP would conclude the concert with a "free for all" (more enthusiasm).
True to his word,
Raine Maida (vocals), Duncan Coutts (bass), Jeremy Taggart (drums), and Steve Mazur (guitar)
played the Clumsy CD all the way through. To be fair, especially after you read on, We'd like to note the drums and guitar playing throughout the gig were incredible. It should also be noted that
Taggart's
drumming was especially outstanding during
Car Crash
and
The Story of 100 Aisles
.
Mazur's
playing was consistent throughout the set.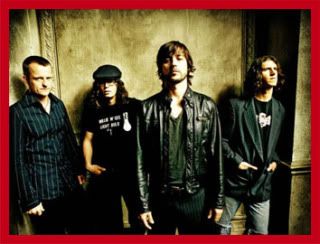 OLP site image
The first indication that something was amiss was during the first song,
Superman's Dead
. Both Ian and I were uncomfortable with Raine's distanced delivery. He was singing a set of songs that he clearly held no love for. Dismissing this as first song blip, we waited/waded through the entire set before delivering a mutual decision. Raine didn't love
Clumsy
with the same intensity as his adoring fans.
To be fair, Raine Maida hasn't used his so-called 'signature' nasal/falsetto early-days OLP voice since the release of their 2002 album,
Gravity
. As I watched Raine sing into the mic, I noted each time a higher-pitch, nasal-falsetto "Maida note" was needed, we were met with distorted bass feedback. Initially, I dismissed the distortion as a sound hiccup, but its well-timed recurrence made it a gee, 'it's-hard-do-hit-high-notes" convenience. It must be frustrating for Maida to attempt a tone that had been forgotten for 10 years, in the name of nostalgia.
While Raine chatted about where Clumsy's songs were conceived; which song he never liked, it became further apparent that he wasn't receiving any pleasure performing Clumsy's songs. The only time I noticed genuine warmth in that (very attractive) face of his was while the audience was singing his songs, or during the crowd applause/ individual interactions. Perhaps he was finally indulging OLP's Clumsy fanatics, after years of ignored requests. Maybe he wants to remind fans that OLP's still around, prior to releasing their next album. Online, OLP spokespeople have alluded that the next album will see OLP returning to their early roots. I don't buy that. Not after watching this performance.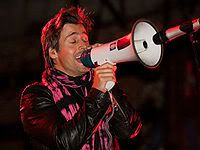 wikipedia photo
When I wasn't feeling uncomfortable for Mr. Maida, I was feeling indifferent (I suppose it was catching). Maida never spoke of a song that held significance for him; no song was mentioned that he was attached to. I decided I didn't need OLP to share their favourite tunes or memories because I was more interested in the lives and experiences of those surrounding me. I bet I could find a book's worth of material in OLP's audience.
The audience's median age was 25, and they appeared to come from all walks of life. I was entertained with how a initially laid-back viewer would suddenly perk up, and lean forward as the first few notes of a song were played. I was impressed with the amount of men, and women, openly emotional with the lyrics of
Carnival
. I realized that this crowd didn't care how Raine Maida's delivery was tonight - they came to see OLP perform songs from an album, and an era, that held special meaning for them. Each one of Clumsy's songs was '
somebody's
' favourite. For many, I think tonight's concert was a cathartic release.
Both Ian and I agreed that the highlight of the evening was watching OLP's fans
. Listening to the crowd songs back to Raine made me re-examine lyrics I so robotically hummed in the past.
4:00 a.m.
was the standout song due to audience participation. Our Lady Peace should be proud of producing a piece of art (Clumsy) that impacted so many people, in so many ways. I recall Raine mentioning that some filming was occuring; I hope the camera captured the crowd's combination of responses from reflection, to misty-eyed recollection, to rapture.
We came to hear
Clumsy
, and after receiving what we came for, we left. We couldn't be convinced that OLP's 'free-for-all' would be worth staying for, especially since we felt disconnected since the first set. As well, Raine's lackluster performance did not convince us
Our Lady Peace
were on tour to '"
recreate the record
" as advertised. The only thing recreated tonight, was the audience's collective response to an album that deeply affected them back in 1997. And
the highlight of the evening will always remain as the audience's version of 4:00 a.m.
when the crowd sang back to Raine, with sincerity in their voices, and emotion dancing in their eyes. The fans outperformed anything Our Lady Peace could have (and should have) mustered up.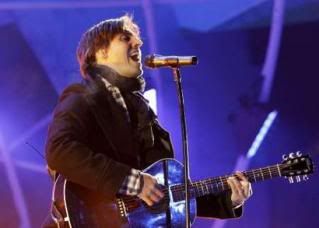 pegasus 2009 concert image
Visit our other Sites
Myspace
,
tblog
, and
Buzznet