Visit Swanktrendz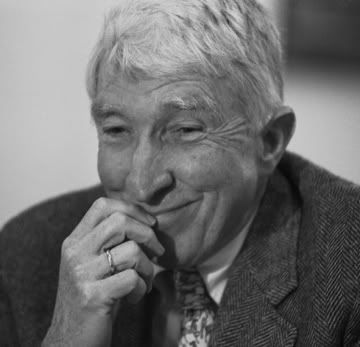 "The great thing about the dead, they make space.
quoted from:
Rabbit is Rich
, by John Updike). And so it goes.
John Updike
died today, Jan. 29, 2009, once again, proving himself right. Updike was born in Pennsylvania in 1932; was a Harvard grad who
twice
won the
Pulitzer Prize
for
Rabbit is Rich
and
Rabbit at Rest
. He is best known for his Rabbit series, as well as his chronicling of suburban adultery in small-town- USA, as seen in novels such as
The Witches of Eastwick.
But Updike was also a poet, short story writer, art critic and literary critic. Altogether, he wrote 25 novels in his career, while working for
The New Yorker
and the
New York Review of Books
. In addition to these accomplishments, he was featured in an episode of
The Simpsons
, and he also enjoyed writing childrens' books.Although Updike had suffered from a skin condition for years, it was lung cancer which determined his final ending.Image from s.matrix.msu.edu