Swank Home
By: Lezah
Canada Wins the Gold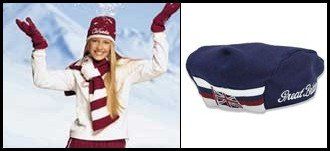 The 2006 Winter Olympics in Torino, Italy starts on February 12 and runs through February 28. You can rest assured that Canada will once again bring home the gold - at the very least, Canada will once again be winners in the fashion competition.
That's right: at Salt Lake City, where Canada also brought home back-to-back Golds (for its men's and women's hockey teams), the international buzz was all about the funky Canadian fashion sense. Britain's Guardian newspaper declared that, "for the first time in Olympic history (and perhaps ever) it was cool to be a Canadian, or at least look like a Canadian." There were newspaper reports about fights over the Canadian clothing in stores, and about line ups to acquire the Canadian Roots wear being longer than the line-ups for some sporting events.
But the Guardian didn't get it completely right: the trend started well before Salt Lake City. In fact, both the 1998 Winter Olympics in Nagano, Japan, and the 2000 Sydney Summer Olympics featured the Canadian team in the Roots-designed Canadian team wear, which created a sensation back then. So much so that the Americans crossed over and had the Canadian fashion house Roots create its own Olympic team wear for both the 2002 and 2004 Olympics, which it then followed up with a contract for both the 2006 and 2008 Games; Britain followed suit and had Roots design its team and casual wear for the 2002 Games as well.
With the retro '50s inspired uniforms and the poor-boy caps, the teams were lookin' sharp.
So it came as a surprise to some that, in light of this success, the Canadians have 'switched teams' and awarded the contract for their uniforms and casual wear to the Hudson's Bay Company (HBC) for the 2006 Games. The uniforms and replica wear were unveiled back in November, and replica wear is available across Canada at The Bay, Zellers, and Home Outfitters. HBC designers Suzanne Timmins Cheri Louie, Erin Leslie, Amanda McAlpine, Manjit Takhar and external designers Tu Ly and Crystal Siemens have produced a line of gender specific clothing (for example, the women's T-shirts feature cinched waists and shorter sleeves than the men's) in Canada's official colours, as well as one's bearing the Olympic Rings. The fuzzy trappers hat in faux sheepskin will surely be a big hit, as will a number of other items. I have already seen a number of items from this line on the street, and as the buzz for the Games heats up, there will be more and more out there - and more and more people wanting it.
Once the Olympics start, be careful: you might just get involved in a wrestling match over Olympic clothing at an HBC store near you.