Swank Home
Boycott Abbotsford AG Rec Center for Further Concerts
By Christine
Despite being ill, I was determined that Lezah and I were going to attend
Boy's
Abbotsford show (they were one of the opening acts for
Collective Soul
). We had missed them once already when the singer, Stephen Kezmeniuk, was too ill to play so there was no way we were going to miss them twice. Therefore, I dragged my sickly butt out of bed; forcing aforesaid companion to share breathing space with me as we headed out to the Abbotsford AG Recreational Centre.
Upon arrival, we were forced to step over discarded beer bottles and pools of vomit in order to reach the lengthy line-up that snaked back into the darkened bowels of the parking lot. Luckily, we were able to bypass this line and head right into the venue. Security was very 'present' but for what, I was unsure as I do not recall Collective Soul ever reaching superstar status. The security also had antiquated rules, eg: no cameras. In an age of camera phones I found this rule to be unenforceable. Besides, I couldn't do a concert review without a visual.
Entrance into the barn-like building immediately presented a '70s old time concert-at-the-hockey-arena feel. A poorly placed beer garden ensured that a line of thirsty folk snaked across the front of the stage making it inaccessible to fans who wanted to be front and centre. The crowd was a real mix, with close to 50% aged 40+ preferring blue jeans, and for some odd reason, the colour brown. The tables selling band merchandise were set up at the back of the arena with the sole light source centred on Collective Soul's offerings. The other band's, Kazzer, items could be dimly made out, and Boy's merchandise was literally in the dark. The background music was an odd assortment of bands from Violent Femmes to Ozzy Osborne, with the bulk of the music being that of '70s arena rock bands. Hello, high school dance!  I'd like you to meet the year 2005!  I mean really, it's time to realize we're in a new millenium here!
Perhaps because I was ill, or perhaps in spite of being ill, I found myself in an annoying venue, with annoying beer drinkers, and listening to annoying programmed music. Not a good space to be in prior to the gig even starting.
Before Boy was due, a band called
Kazzer
played their set. This group had an eclectic sound, neither great nor bad, yet the band presented themselves with an over inflated sense of self.  But who were they, really? Their sound was a fusion of rock, metal, rap, and scratch hip hop. Their look was not homogenous either. The lead singer had the Vanilla Ice appearance, while the guitarist had very long dred locks, and the keyboard/record scratch fellow looked like the local country boy with his ball cap. Definitely an urban meets country look. The tunes ended up leaning more towards the hip hop genre due to the melodic bridges and choruses after the rapping. The crowd listened, tended to be young and somewhat uncertain looking. They were polite with applause, but appeared underwhelmed (with exception to two skinheads who were fist pumping and lurching about).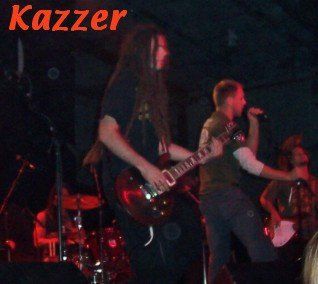 Boy
made an appearance onstage at 9:05 only to disappear quickly after. After a lengthy passage of time (or what seemed to be lengthy as I was becoming impatient with the people around me) Boy took to the stage. By now a throng of people had pushed toward the stage, again, more of the 'younger' fans.
As soon as
Boy
began their set, I could immediately see the growth in the band's performance since last year, when they were literally becoming acquainted with each other (as Stephen was previously a solo act). As they played, you could see they were seasoned, comfortable and arranging the songs more personally, rather than putting out the tunes in the order of the tracks on the cd. Unfortunately, I doubt if the audience would have appreciated any of these subtle nuances as the sound was
appalling
. Stephen's mic was not working properly from the start, and Rolla's guitar riffs were barely audible. Maurie (Tank) was hidden in the back with his presence known only because the drums were the main instrument heard.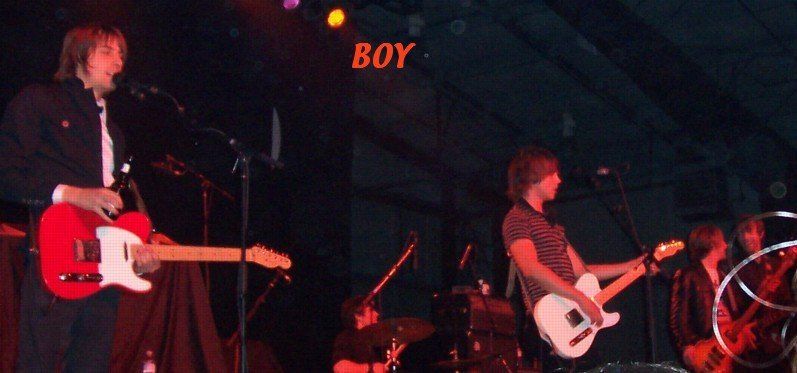 As well, the band did not seem themselves. Rolla didn't have his usual bombastic enthusiasm, and Stephen could have been bantering with the audience - who would know when you couldn't hear any vocals? If anyone in the audience at the front of the stage knew the band's music, I'd be surprised as there wasn't the usual excitement shown for the songs such as 'Diamonds' and 'You gave it All'.
Surely someone
in the central control section noticed the poor quality of sound, and why wasn't it corrected immediately!? If I were a manager, I would have been livid.
It was extremely disappointing to watch a band that has great talent, and has come so far as a collective unit, to have a potentially excellent set sabotaged by poor sound engineering. We couldn't even stick around for
Boy's
full set, and had no interest in seeing Collective Soul, so we were off.
The Abbotsford AG Recreational Centre left a horrible impression upon me, and I left feeling worse than when I had arrived.